New Holland Honeyeater and Tabebuia ~ My current work ~ SOLD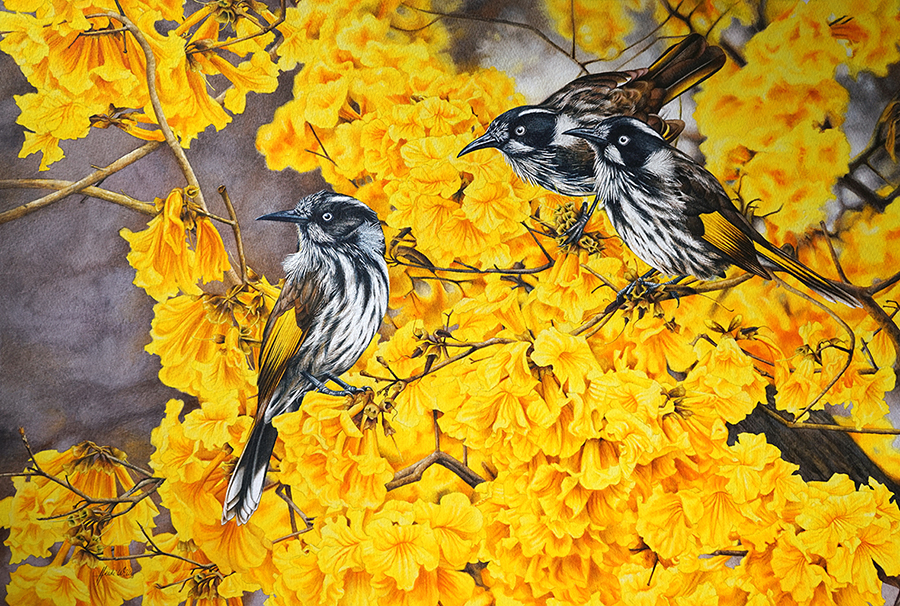 'New Holland Honeyeater and Tabebuia' is my current work. Measuring 63x42cms / 24.8x17in in size, it illustrates a stunningly vibrant snapshot of two extremely captivating, powerful subjects. The Tabebuia is an unforgettable sight, flooding your eyes with cascading trusses of brilliant yellow, hanging upon its bare branches during the flowering season. Although this tree is native to tropical Central and South America, these ones were captured on the mid north coast of NSW, Australia, a common site in these parts. For me it was of course, a vision that could not be overlooked and certainly not forgotten! The New Holland Honeyeaters (Phylidonyris novaehollandiae) seemed an obvious companion for this plant as its colour scheme is so compatible and yet so dynamic and dramatic with its jet black contrasting features, strong enough to balance the abundance of colour in the Tabebuia yet soft enough that this piece could retain its delicacy. Once this mix had entered my minds eye, there was no option but to explore it further and to create this bold painting.
Its not often I work in yellow but I so love how its presence fills the mind, heart and spirit with pure, uplifting joy. I have seen clear visual and physical responses in those who stop to view my works in yellow many times, and so it excites me to create this piece, knowing that is will brighten spirits of all those who come across it.

Time with the Tabebuia in Brazil, so glorious!
If you'd like to follow the progress of this piece more closely, be sure to visit my Facebook page for day to day updates. Thank you for following!