Natural History Watercolour Painting Workshop – Cradle Mountain – Tasmania
With my feet barely touching the ground home from my Brazil adventures coming to an end just days before, I made the journey back into the airport last Wednesday to catch another flight out of town before I could even unpack my bags. My fourth flight in a week, I was destined for an especially exciting natural history watercolour painting workshop, set amongst the stunning wilderness of Cradle Mountain in Tasmania. Recalling its sensational beauty from many years ago, I was simply busting to be there in the beauty of this area and to meet my new students!
It is years since I was there last, and with its overwhelming raw beauty, rugged pristine landscapes, and its abundance of flora and fauna, I have never really settled my desire to return. As a traveler, trekker and lover of wild places its a completely unique, wanderlust quenching experience. As a natural history artist its a dream come true! As a tutor, it was a remarkable opportunity to share my joy of nature and my painting knowledge with a very fortunate group of students, all gathered here from far and wide to take part in this incredible workshop.
Excitement and anticipation of adventure running high, we were soon delivered into the lush green, rolling hills of Launceston in Tasmania's north and home to our snug little bungalow, tucked in amongst the crisp air and charming streets of the city. Having been immersed in such a parched dry, red dust bowl of Brazil for the past two months, the cool was a shock to my system, surpassed only by trying to absorb the impossible greens of the landscape as we began to make our way towards the snow topped Cradle Mountain. It was such a dramatic contrast to the wild places I have come to know of late, and so breathtakingly spectacular.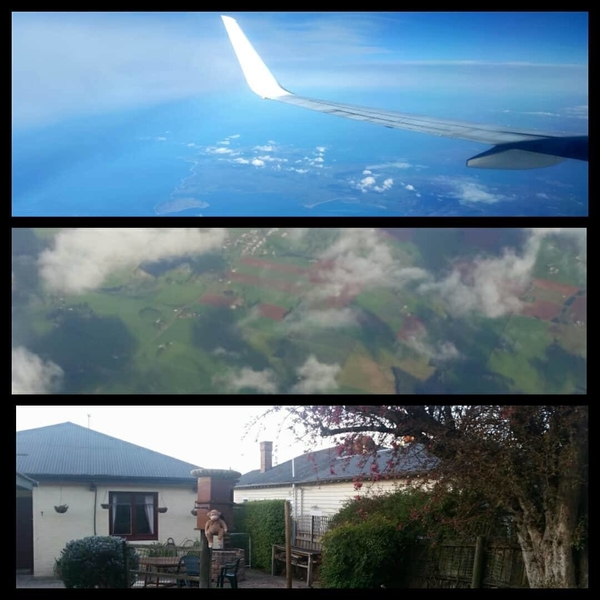 With the troops nervously gathered along the way, each of them bringing a world of tangled pace and anxieties with them as they extract themselves from busy lives, we board the bus and we are on our expected, fragmented way. We all fall in and out of daydreams as we gaze out the windows in awe, chattering happily as we go. Coffee stops, exploring new places and the calming colour of the green alone, begins to settle everyones haste. One by one my students come to me, quietly divulging their fears of not being good enough to do the class as though they are alone facing their deepest fears. Small grins of relief surface with the common thought, overhearing their same fears spoken to me just moments before… and slowly we unravel a little more. Soon enough our conversation and giggles are rolling along with the hillsides that surround us, and all that we brought with us is left behind.
With clearing minds and thoughts we weave our way into wilder and wilder country, sage blue and purple vegetation clustered between the golden matted grasses that rest low and dense on every clear, untouched surface. We gasp over and over at the view, heading steadily towards the mountain. Wombats wander about along the roadsides with the Pademelons, who sit munching on grassy snacks like plump, furry bundles of cuteness without a worry in the world, and we arrive happily at our destination, the Cradle Mountain Lodge. Viridian moss smothers every surface, branches dripping with lichens of endless kinds, smoke drifting out from the chimneys from open fireplaces within, the moody atmosphere and grandness of such a place really sinks in fast, and we were chomping at the bit to get acquainted with our new home.
The lodge rests right in the very heart of this wilderness area and is so warm and inviting, raging fireplaces in every room with an abundance of oversized lounge chairs to park yourself in wherever you go. Our rooms are beautiful, each with a cosy gas log fire that runs at your toe tips day and night if you need it, and most importantly, our painting room is divine. It is a large space with high ceilings and soothing white open spaces full of light and views on every side, a perfectly peaceful and private hideaway for my group this week.
Moments later we were out and about exploring the magical forests that surround us in utter awe, and it is clear that this week will be spent in another world of wonder for us all! Keen to walk around the Lodge's boardwalks that wind through the forest, we wander along the moss laden creek enjoying the clean mountain air, soaking our surroundings up into our systems as we begin to learn about what to look for as a botanical and natural history artist, and ultimately, how to take an inspiration from the field to paper successfully.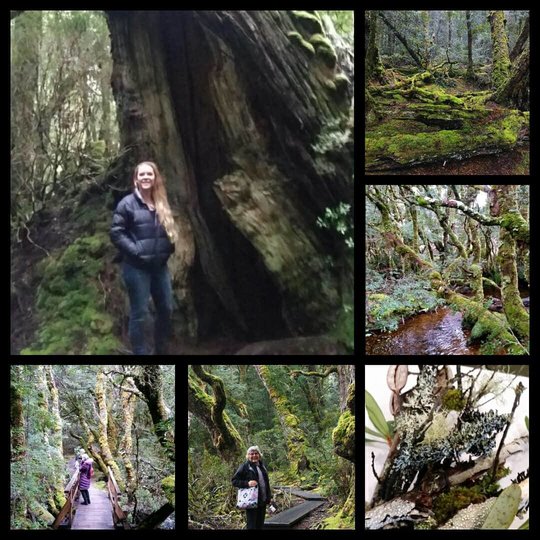 Back in our studio we cover many of the basics to my craft including the materials, process and philosophies behind my work and practices, and we begin to settle into out new environment like baby birds in their nests. Even without the endless platters of pastries, fresh fruits, tea and coffee brought to our room, it was perfect. We began with an afternoon of drawing and drawing strategy… this location offering me such a huge and rare opportunity to delve into totally new areas in my painting workshop! Soon enough, my students began to discover they could find their way through the maze, and we were off, never looking back.
Nerves settled, our spirits beginning to disconnect and reconnect to calming things, the group exhaled over a perfect dinner laid out in style by the crackling warmth of the fire and a glass or two of good wine that went down so perfectly. Friendships now well on the way to formed, confidence lifting and troubles left behind us, we nestled in to the day in the lap of paradise and luxury and begin to feel as if nothing else exists but our own little happy bubble here in Cradle Mountain.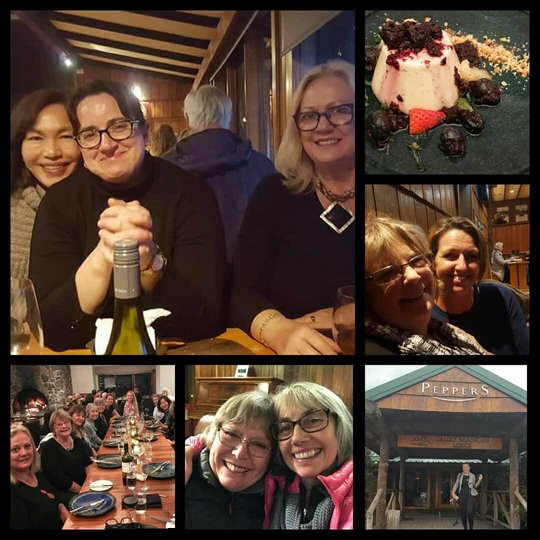 Waking to the fire glowing gently at the foot of my cozy bed, I wake on the dawn and gaze out the huge window that opens out over the mountain views and its simply wonderous. Slowly we rise, rug up and step out to the brisk morning air and make our way to the Lodge for breakfast… and what a lavish affair it is! Where to start? Pears poached in leatherwood honey and Lady Earl tea, toasted flaked almonds, granola and yoghurt? Eggs, bacon, corn fritters, sausages, roasted tomatoes, mushrooms and beans? Hot porridge and fresh fruits to die for? Cereals, fresh juices and an array of pastries peppered with fresh berries? Its impossible, especially when our studio continues the offerings all day long too!
The grey rolls in to soak the world outside thoroughly, but we havent a care in the world settled in to the warmth of the studio. The lesson today and a rare treat of a subject for me to teach, a stunning Pink Robin native to this region. It is with huge thanks to a wonderful wildlife photographer David Adam that this was possible, who was kind enough to let me share his work with my painting workshop group. His work brought frustrations and plenty of joys to us all through the week, and helped us to spread even more of that to others. We had a truly fantastic time learning how to approach and paint such a subject and my students did SUCH a great job, ending with smiles all around.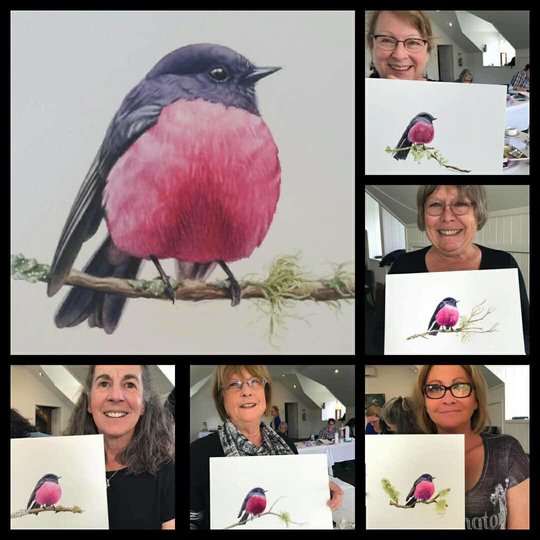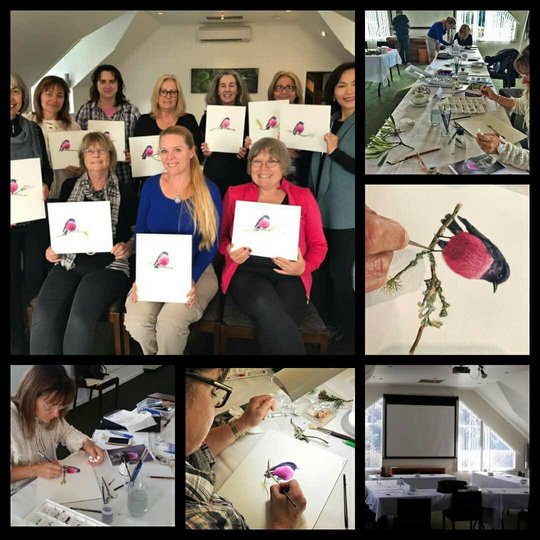 Two full days of learning in the studio was broken by short and memorable walks in the forest near our new home, fabulous food, conversation, photography, discoveries and rest and by Saturday the sun was shining in a clear blue sky, the best in over 4 months, ready for our incredible day walking Dove Lake… and what a day that was!! Tracing the lakes edge, we made our way into the snow capped mountain side with uninterrupted, spectacular views in every direction, a total wonderland and delight to the senses. No words can express the thoughts, feelings, emotions and joy the day would bring to each of us, but it was so filled with an unbinding sense of freedom and possibility that we were all left floating on high.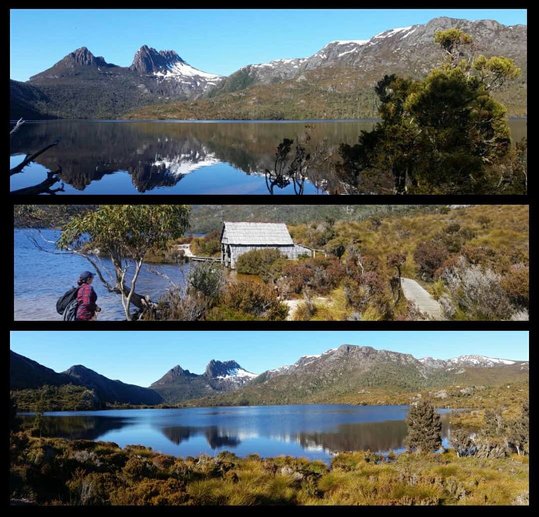 'When i discovered that the week included walks as well as painting i was really irritated. 'I came here to paint!' I thought… but I could never have imagined how incredible this is and how much it has been everything that I needed… I am overwhelmed with gratitude and joy for this entire experience'
I have seen few expressions more memorable or so overcome, full and and radiant as she wore on her face that conversation. She was so renewed, soft and beaming with joy.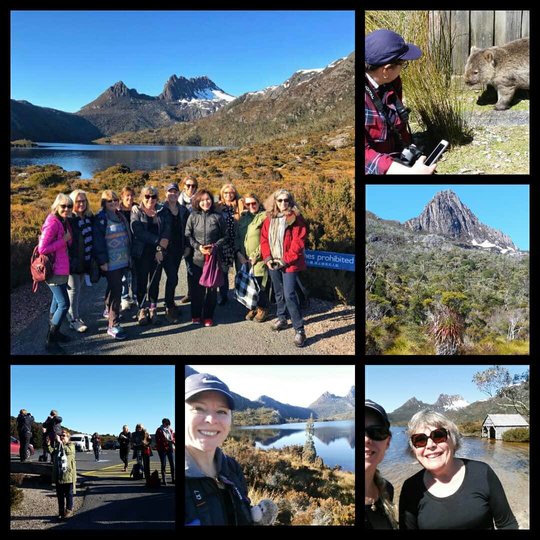 Even though we had walked and walked, even though those who didnt plan on walking had walked and wanted to just keep walking, even though we all wanted to keep walking… we found ourselves torn between the wilderness and the studio, the place where my entire life now resides. Here though, both were near… and so with a beautiful lunch enjoyed, we returned to the studio to start a new painting challenge. Though class finished at 4 each day, we found ourselves running hours overtime, and many nights my students returned to the studio late into the night, totally absorbed in their work and learning. 'Thank you for my new addiction Heidi!' one woman said to me so delighted before returning unstoppably to her work…. this, I completely understand!
The afternoon stretched unwittingly out into the evening as night fell and large glasses of red wine began to rest beside palettes in a complete exhale, so far from the anxieties and tangle that we came here with just a few days ago. It all seems a lifetime, another world ago now. Telopea truncata, a local native here, grows abundantly. We had gathered reference, drawings and images and now we were well into creating a single delicate, red spiderlike bloom. The lesson here, far more important here than the specific painting, was in how to approach such overwhelming tangled details with complex structures like this Telopea (Waratah) using delicate colour and tone and brush control, and perhaps most importantly of all… the importance of slowing down. Again, my students overcame so many fears and uncertainties taking on this challenge, and totally nailed it! How incredibly far they have come again…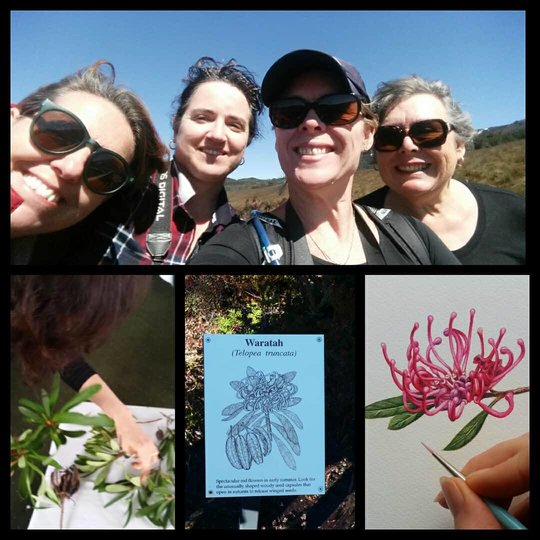 As the days rolled on, we lapped up every single moment, and as we met the last few I began to hear a lot of bereaved cries of 'i dont want to go!!!', and nor did I! Savouring each moment as precious as they are, the end drew inevitably nearer and all too fast, but as a tutor I saw new friendships form, many humps being overcome, racing hearts calm and tangled minds unwind, and all the while I watched confidence grow and these previously 'impossible' paintings be created. I saw and such vast amounts of growth on so many levels around me this week that it filled me up with joy! I thank this group for their spirit and openness that allowed me to offer so much to you all in this very special painting workshop. I am very proud of you all in so many ways.
A final fantastic dinner together, topped with a leatherwood honey crumble and berries panacotta, plenty of laughs and hugs we said farewell to this heavenly wild and unique place feeling so much richer than we were. A little of us will always remain there and a little of it will always remain with us, I know this is true.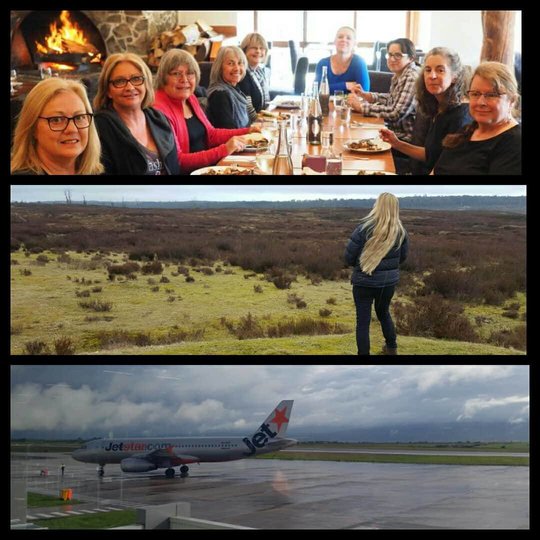 These events are always such unique experiences, and we work very hard to make each one a completely restorative, uplifting, inspiring, personal and memorable experience for everyone who comes along. This Cradle Mountain natural history and watercolour painting workshop was certainly no exception to the rule. In fact I would say personally, that it was an especially outstanding week so filled with wonderful people, positivity and absolute fun, mixed with so much love and learning, adventure and nurturing, and that perfect balance of essential rest and learning that we all came here seeking.
In her usual style, beautiful Gillian from Artable took care of every last detail to make this event run like clockwork, and it really did. Even down to the incredible weather she surely manifested, her attention to detail and professionalism, her personal touches and thought, deep love of art, and her sensitivity to people, place and experience every step of the way reminded me every day why I choose to work with her as I do. In her hands, I rest assured that all will be cared for on my painting workshops, so well that we can be left completely free to soak up the experience as fully as possible.
As sad as it is to say farewell to the Cradle Mountain Natural History Painting Workshop, plans for the next amaaaazing painting adventure holiday are already being made and with talk of NZ for the year ahead, its time for you to start giving it some thought too. Expressions of interest are open on this event so please let Gillian (gillian@artable.com.au) or myself know if it sounds like you… Of course, being a part of these incredible painting experiences is never further away than simply saying 'yes!' to coming along with us, so please let us know if youd like to join us and we will be sure to include you in our next fabulous journeys.
For now its back to the studio I go after so long working away from home. I have some wonderful plans and projects coming up that I am dying to get into whole heartedly and to share with you along the way, but I can hardly wait for the next travel painting workshop week and I hope to see you there!