Botanical and Natural History Watercolour Masterclass Opportunity – CRADLE MOUNTAIN, TASMANIA – 4-8 October 2017 inclusive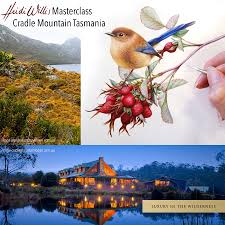 Wonderful news everyone… I have a new Botanical and Natural History Watercolour Masterclass opportunity open for bookings as of today, and I have to say, Im extremely excited about this one! Organised once again by the beautiful Gillian from Artable, this workshop is based in gorgeous Cradle Mountain, Tasmania and runs from 4-8 October 2017 inclusive. 
Masterclass Details
This wonderful watercolour masterclass is based in one of the worlds most remarkable wilderness areas in Cradle Mountain, Tasmania, AU. Based in the luxurious Cradle Mountain Lodge, this 5 day workshop will focus on painting beautiful botanical and Natural History subjects from the local area. We will be working through the processes of field work, reference collection, and learning more about the necessary studio and watercolour painting techniques required to create our own completed botanical based artworks.
Who can join me/us in this workshop? Of course anyone can! No matter where you are at with your own painting journey, this experience is designed to immerse you not only in the painting process itself, but in this incredible environment and location as well. It promises to be a complete mind, body, soul experience… which is so much the joy of this genre of painting.
From this weeks watercolour and botanical painting experience, we will endeavour to
Improve your watercolour painting skills
Improve your botanical painting skills
Answer any painting questions or tackle issues you may be facing
Expand and broaden your knowledge of this genre and the processes involved in creating this work
Identify and redirect your painting struggles to ensure you're on the right path
Experience a broader exposure to the practice of botanical and Natural History painting through this unique field work opportunity
Gain essential, practical work strategies to help you continue learning and growing independently
Produce finished botanical and natural history artwork/s from the Cradle Mountain area
Meet others who share our common interests
and so importantly… relax and have some fun painting in a wondrous, totally unique location, learning from a renowned artist and tutor
We need a minimum of 8 students for this workshop to run, so give it some thought, make your plans, have an adventure and we will see you there!
National Parks and Wildlife – Cradle Mountain Highlights
Who is Artable? 
Artable began in 2007 as a small art school in northern NSW and became highly sought after with waiting lists for all classes since its inception. In their 3rd year they won the local business achievement awards and opened a second school in QLD.
Starting with resources from local artists and tutors available to the school, Artable grew in popularity quickly and now offers workshops from renowned artists and tutors much further afield… including myself. Expanding on this even further, Gillian now coordinates and operates a fabulous array of travelling painting workshops, broadening the experience and opportunities to our students even further.
Gillian notes 'We take enormous pride in delivering the best of art travel experiences/workshops, and work hard to make sure that both the artist and students have an experience they will remember for life!' Working with Gillian has been a true pleasure in my own experience, her passion and efforts evident in both words and action. I like that 🙂
Artable Contact Information
Gillian Grove
PO Box 1065
Kingscliff NSW 2487
Australia
0411 317 606
Please don't hesitate to contact Gillian with any further questions or to make bookings. We look forward to making your visit to Australia as enjoyable as possible!
Other Opportunities Currently Available;
Closer to home, Gillian is also booking the last places for my July workshop in Tyalgum so let her know if youd like to join in on this event.
I believe the Grafton masterclass is booked up now after a couple of unexpected cancellations due to babies arriving and the likes… but please double check with Fay Boyd for any last minute positions there, this event is fast approaching!
Thanks everyone, these are ALL current masterclass openings for the foreseeable future, and I really hope these new opportunities are just the ticket for you. Im looking forward to seeing so many of you along the way over this years events! Happy painting to you all ~ Heidi