Watercolour Bird Painting in Progress ~ Firetails and Tallowood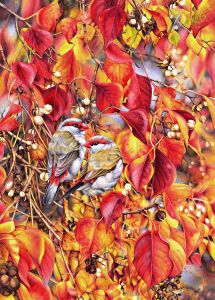 This smaller Autumn inspired piece, a watercolour bird painting measuring 36x25cm/14x10in in size Firetails and Tallowood is a study of the season and the incredible colours of the natural world in the fall. I love the vivid, rich colour of autumn, and these little Firetails nestle in amongst this environment so beautifully.
Starting with an intricate pencil drawing, the image of this bird painting is mapped out immaculately ready for painting. Building the painting up in many layers of rich pigment washes brings this piece to a vibrant completion, reflecting the combination of warmth and serenity of my subjects beautifully.
The Tallowood is such a beautiful subject, one that captures me with renewed interest every year. With its rich dark plums, deep reds, vibrant yellows and fresh green colours flushing over the Tallowoods so late in the season, they are a final glorious reminder of the winter passing. They simply could not be ignored this year and so this sweet, vibrant bird painting simply must be created! The Firetails are so small and sweet, unassuming in their grey brown earthy tones amongst the colour with their brilliant red bottoms and masks making a perfect combination for this story.
For a closer look, join me on Facebook to see the entire Firetails and Tallowood album.