White Waratah Painting – Acrylics – 44x32cms Original Artwork is Available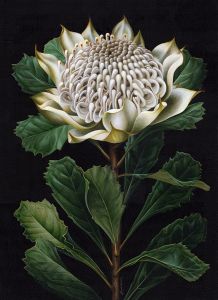 I am very pleased to be able to offer my new White Waratah painting to you at last. With the completion of the highly popular white waratah painting I created for the Sydney West Hotel's Corporate ID in 2017, it was always my intention to continue this series into a larger collection and the time has finally come to get them underway. Red, pink and white waratah studies in this style will complete a gorgeous, dynamic, memorable set of 3, with the white being the first.
Though the new White Waratah painting is certainly a pair to the West Hotel commission in size, style and subject, as all original artworks go, it is highly unique artwork in itself and explores the story of a completely different specimen with its very own intimacy. As a series, it will be joined by the other two in time, a striking collection for sure.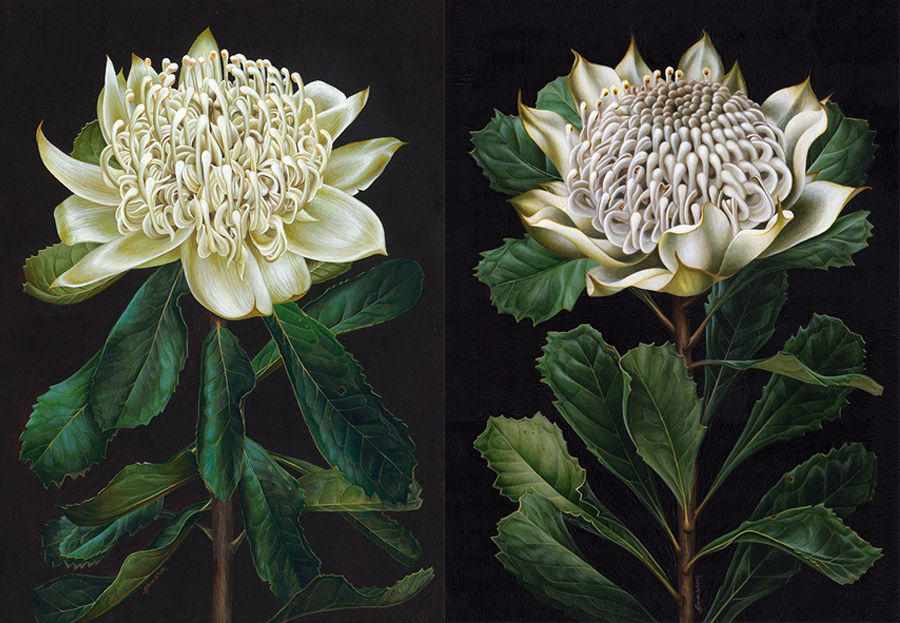 West Hotel Sydney's corporate ID commission (left) New White Waratah botanical study (right)
I love working in this style for the acrylics medium, exploring new degrees of richness and depth with the use of black backgrounds and bold subjects in simple, dynamic compositions. Whilst these paintings strongly echo my watercolour work in many ways, with every intention of doing so, they bring an exciting new dimension and scope to the artworks I already produce, they reach an even broader range of clients and tastes, domestic and commercial, and expand the ways and locations in which my images are used as well. For me, its fantastic new territory Im thrilled to be exploring.
And so, the White Waratah painting is now available for purchase either on its own, as a pair, or as a set/series. Please let me know if you have any enquiries on this collection and we can discuss the possibilities further. Thanks for following my work, much appreciated!