Pink Waratah Painting (2 of 3 Waratah Painting Studies) – Acrylics – 44x32cms – Available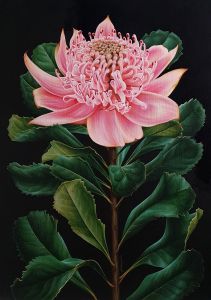 As promised, I have just completed the second painting in my current series with my Pink Waratah painting. This bold collection features one of Australias favourite wildflower subjects, Waratah, or Telopea speciosissima. Each painting measures 44x32cms in size and are rendered in acrylics to reflect the intensity and richness I desire for this amazing Aussie botanical subject.
Telopea speciosissima is a large shrub endemic to New South Wales here in Australia and belongs to the plant family Proteaceae. This striking flower is also the state floral emblem for New South Wales (my own hometown) and is one of my own personal favourite blooms. Im always the first one bashing around in the sandstone coastal bush areas of home in search of the first flowers for the season and Ive been wanting to create this series for some time to honour them. Of course I am very happy to see this set of waratah paintings coming together as I visioned.
Though the most common waratah colour by far is the red, they are also found in white, pink, yellow and apricot. In this collection I want to represent the White, the Pink and of course the Red. With White and Pink now complete, I will begin to work on the red in time to complete the series as I hoped. For now I have a beautiful pair as below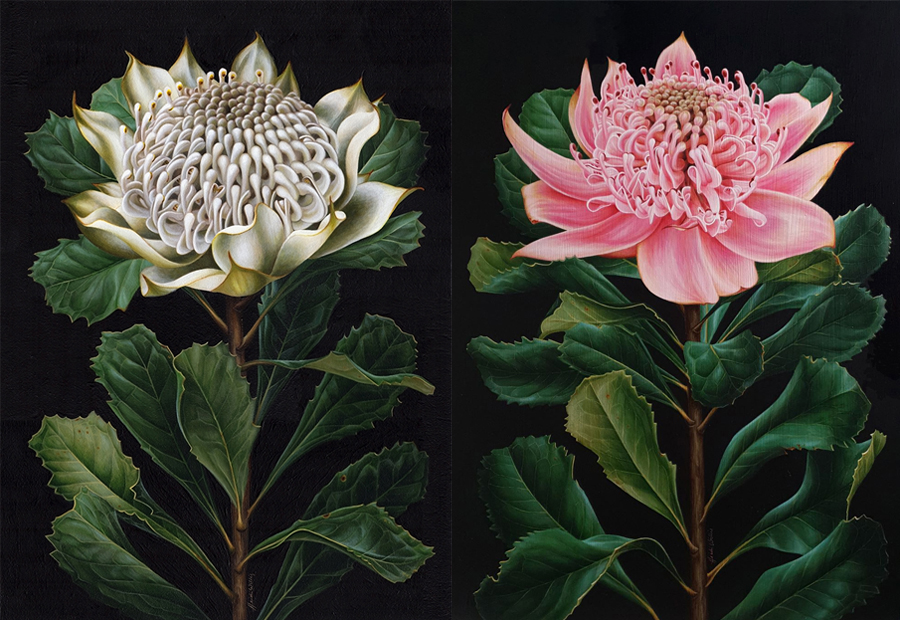 As a painting subject, the Waratah is as challenging as any I can imagine! Full of complexity and intricacy, it certainly brings many challenges to any artist. It has been wonderful to explore however, and it is even more wonderful to have been able to share the development of my Pink Waratah painting with you along the way. Thank you to all who joined me.
My Pink Waratah painting is now available for purchase (as is the white) so please just let me know if you have any enquiry on these very unique, original botanical studies.