'Jacaranda Blooms – Blue Wrens' Watercolour, 60x80cms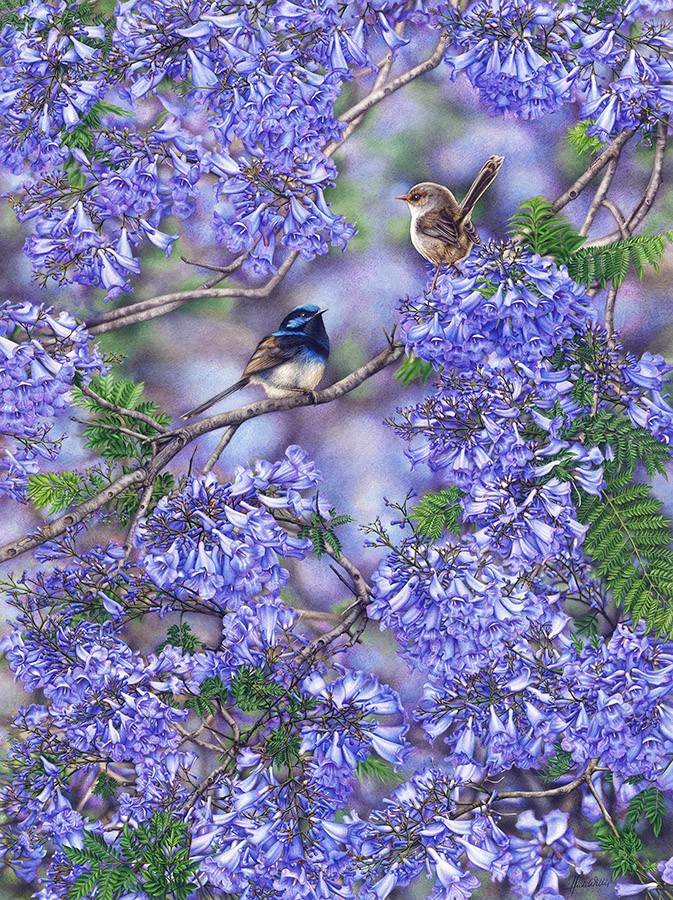 Pop over to my YouTube Channel for a look at the time lapse clips of this painting coming together.
Part 1, jacaranda flowers. Part 2, stems and leaves. Part 3, blue wrens. Part 4, background
Over the past few months Ive been working on a new project featuring a cascade of stunning purple jacaranda flowers in a spectacular major work set for many greater journeys beyond my hands and studio. I am very keen to watch its evolution from here on out in the hands of my clients and their business 'Jacaranda Street', which is all about the jacaranda… a sentimental favourite for so many of us I know!
Jacaranda Street, an emerging Australian luxury and lifestyle brand, commissioned me to create this wonderful artwork work in watercolour, based on the jacaranda tree and its blooms. Their desire is to bring this beauty and joy to the world through the works of Australian artists, artisans and designers. Im pleased to announce that my Jacaranda major work titled "Jacaranda Blooms – Blue Wrens" is now available for purchase as a high quality, unframed fine art print. Further details and expressions of interest can be made by sending an email to info@jacarandastreet.com jacarandastreet.com which will be launching their exciting new venture shortly.
So yes, beautiful prints are now available of this jacaranda painting, but we have many more wonderful plans for this artwork yet to come so stay tuned for further updates on the developments as they come to light. Our goal is to create many wonderful Australian made products featuring the jacaranda flowers for all to enjoy, and I will cover more details and information on this and on Jacaranda Street in my blog as they unfold.