Reed Bee Illustration in Watercolour – Available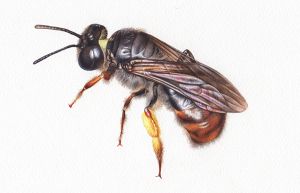 In recent months Ive been working on a really exciting project… well actually Ive been working on a few wonderful things, but the Sydney Parks Signage project has kept me busy for many months this year, illustrating around 40 pieces to complete the works. The signs are now set to adorn 6 major Sydney parks including Glebe Foreshore, Jones Street Pocket Park, Kimberley Grove, Orphan School Creek, Victoria Park and Sydney Park which is incredibly exciting.
With the last brushstroke drawing to an end last week, I am left with a smile, a load of pride, a few new callouses on my hands and a collection of really sweet natural history paintings that are already making their way to new homes. There are some great buys in the collection if anyone is interested in owning a beautiful original artwork of mine, this might be the place to start.
Amongst the artworks needed in this brief were a set of 3 bee illustration studies, the Fire-Tailed Resin Bee, the Blue-Banded Bee and the Reed Bee. These were amongst the most thrilling of the artworks to tackle for me, theres no doubt about that! The wonder, beauty, intricacy, the challenge of doing them super well… its no surprise it appealed to me so much really, is it?
Overdelivering again, i jumped right in to the challenge and in doing so, I learned so much about the life of bees, i met new people and found myself totally blown away at the sheer beauty and diversity of bees. Im not one who misses much, but i had no idea the extent of its wonder. People ask me when ill get sick of natural history painting and my answer is always when I stop having my mind blown by nature! In bees alone I can dream of a lifes work capturing them, but for now it was the challenge of these three, a very real challenge indeed.
Each bee painting or study measures 15cms from tip to tail and are rendered in watercolour with no concern given whatsoever to the measurement of time, only quality. 'This is a collection I will continue to build' I decided immediately, and before I knew it, another bee illustration came in for my latest client, adding to it already, a 4th bee illustration to the series which has been thrilling.
First in this collection is the Reed Bee. Reed Bees belong to the genera Exoneura and Braunsapis, such a gorgeous bee! Reed Bee Illustration is now sold, but just let me know if youre interested in a painting from this series for your collection, they really are lovely.