Birds In Art Finalist 2019 – Leigh Yawkey Woodson Art Museum – SOLD
ITS A DAY OF GREAT NEWS!
'Dear Heidi, it is my pleasure to share the good news that The Great Romance has been selected for the Leigh Yawkey Woodson Art Museum's 44th annual Birds in Art exhibition. Please accept our sincere congratulations and a hearty "Well done!'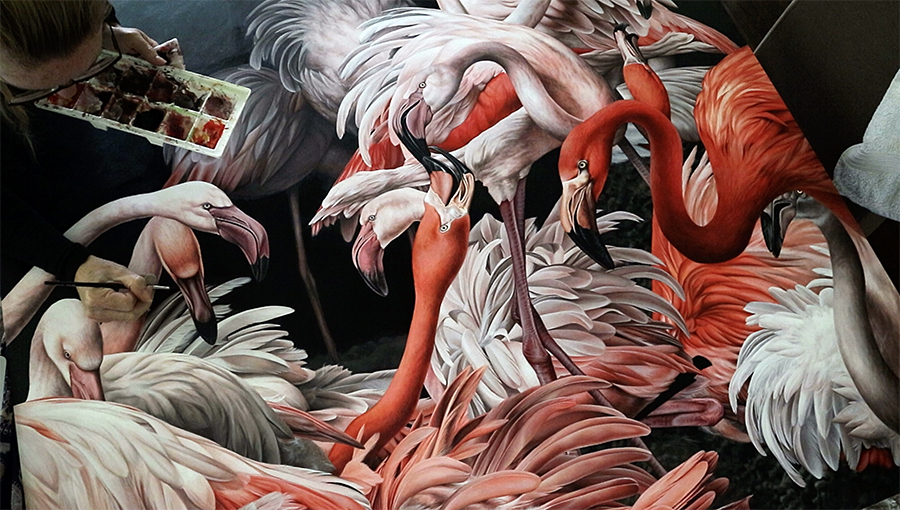 Flamingos – The Great Romance In Progress – Acrylics – 120 x 120cms
Yes, thats the great news of the day… I have been selected as a finalist in the Leigh Yawkey Woodson Art Museum's 44th annual Birds in Art exhibition for 2019 and I am really thrilled to be included in the amazing internationally acclaimed event for the first time.
The Leigh Yawkey Woodson Art Museum, Wasau, Wisconsin, USA, has hosted the highly prestigious Birds In Art event annually since 1976, seeking to showcase the very best contemporary bird artists from around the world. This year, jurors Jillian Casey, curator of collections, Stamford Museum & Nature Center, Stamford, Connecticut; Luis Purón, executive director, Rockport Center for the Arts, Rockport, Texas; and Robin Salmon, curator of sculpture and vice president of art and historical collections, Brookgreen Gardens, Murrells Inlet, South Carolina have reviewed entries submitted from more than 500 artists this year before making their final selection of artworks from 91 artists.
I have entered this exhibition once before in the past but was not selected with my watercolour works. Its a tough event to be accepted into, as it should be, so this time around I decided to try my luck with a bold shift in medium to acrylics, working with a far more contemporary composition, increasing the size, drama and intensity of my work considerably, and that appears to have tickled the fancies of the selectors this year.
Equally as bold as chancing a completely new medium, is this outrageously beautiful flamingos subject. Originally captured by my friend Peter Caddy he was kind enough to allow me to work from his stunning image to produce this painting for all to enjoy. Ive called this painting 'The Great Romance' as the flamingos scene reminded me of a ballet stage, so filled with tenderness, drama, beauty, ruffles and grace with a deep sense of romance amongst it all. It really is a deeply captivating scene, I thought, and I am so pleased to know its set to be shared with a greater part of the world in this way.
In fact it was never my intention to create this painting for the Birds In Art event, or for any specific reason at all in fact, I just knew the moment I saw this image that I was in love, and that I simply must paint it… and so I followed my instincts on it, spending over 4 months working on this large (120x120cm/47x47in) piece to finally complete it before realising itd be perfect to submit to the Birds In Art event. Usually I have no work available to submit to such occasions, but this year it all came together in perfect harmony to this wonderful conclusion and it feels just right.
Some say that to really make your mark in the world of realist bird art, you must be accepted into the global phenomenon of this huge American art competition that is Birds In Art. Certainly its one to aspire to in a career as a bird artist and I am over the moon to have achieved this in my own. Now I need to try and work out how to get myself over to the Museum for the opening night event somehow! Eeeep, I pray thats somehow possible for me to be a part of too!
Congratulations to my friends and colleagues who were also successful in this years selection challenge, I look forward to seeing several of you in September!

This annual exhibit opens to the public on the first Saturday following Labor Day. The 2019, 44th-annual Birds in Art exhibition will be on view September 7 through December 1, 2019
If I do manage to make it over, Ill be sure to share this excellent adventure with you all!
**********************************
'The Great Romance' – (120x120cm/47x47in) – Acrylics – is now sold, thank you
email me here if you have any enquiry on this original artwork, copyright enquiries, or in regards to any other artwork that captures you
**********************************
BIRDS IN ART UPDATE – MAY
Today I spent a very busy time with my teams in Sydney preparing my flamingos painting for the long journey to the Birds In Art event in the USA. First stop was to have the painting scanned ready for the catalogues, exhibition marketing, and also in preparation of making fine art prints available to you all in the coming weeks. Second stop was off to my framer which I always enjoy. Its a reliable hotspot of creativity and happenings. You never know who youll run into in that place, but its always someone interesting!
Picking and choosing just the right frame is always a challenge and today everyone joined in, offering their suggestions, preferences and enthusiasm as they came and went. It was a lot of fun really, smiles for us all, eventually settling on a single choice. A sleek, classic, contemporary black frame with a soft silver fillet between to lift the highlights of the painting was finally settled upon, and we moved on to long, considered discussions of crating, freight and the logistics in actually getting this huge painting to the other side of the world safely. Being an artist is a LOT more than just the painting in the sunshine all carefree and blissful bit of course, its quite a business, but we are all set for the event at last…. both the painting and me! Yep thats right, with my ticket in hand now, I am set for the USA in September too.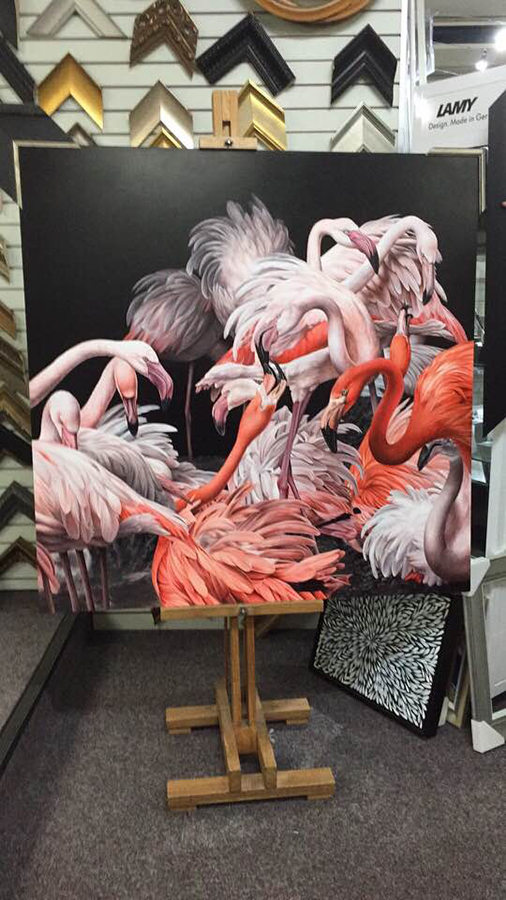 Before I knew it Flamingos was gone and out of sight. 'Oh I should have photoed that!' I said to Mum all too late, but she was a step ahead as usual and had this shot ready for me of the painting at the framers. Its a nice picture I thought… its going to look so good framed!
Its strange seeing a major work part ways with you after such a long and deeply intimate time together, but today was the day and I watched as it was carried away out of sight after all this time having it near. 'Is it hard to part with it?' Mum had asked me? 'No, it has a story of its own it needs to go and tell now, and that cant be done if it stays with me' I know this and it makes me happy to think of what lies ahead on the journey of this very special flamingos painting. The next time I see it will be hanging on the wall of the Leigh Yawkey Woodson Museum in Wisconsin, USA at the event in September… imagine that!
**********************************
BIRDS IN ART UPDATE – JUNE
Thank goodness for my my amazing friends is all I can say… and especially for one of my very dearest friends who came to the rescue (once again!) on the crating of my flamingos painting, before I could even shed a tear trying to make this happen! The only person I know who works more than me, my dear friend Marc dropped absolutely everything on his own epic plate last week, and without speaking a word, he made this amazing custom, reusable crate for me when I literally couldnt afford the exorbitant packing costs involved in getting my painting to the States… so a special thanks goes to you Marc, you always have my back and you saved my day on this XX
So much goes on behind the scenes, in all the business side of art… I rely on so many people who come in and out of the picture in some way to make what I do happen, and to run smoothly. Without these people id be lost! So, it has certainly been a busy time for me, and for those around me, making sure this important event runs on point, and for this support i am so grateful. Tomorrow the crate will make its way to my framers in town, my Flamingos painting will be packed like a snug bug in a rug, and begin its journey to the Museum in the USA for the Birds in Art exhibition next week.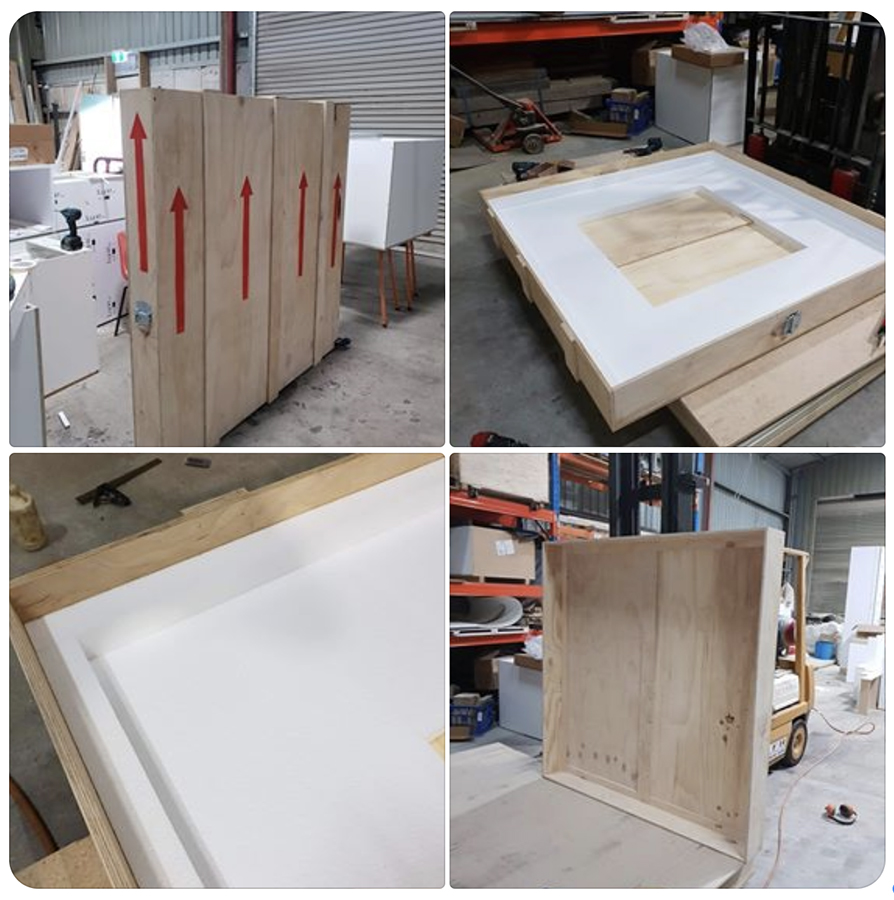 Yep, its a big crate! Or as Marc put it 'thats one a big arsed crate'… hes right, but isnt it excellent? I am so blown away.
In other news… I have my flight to the exhibition booked and I will be heading over to the Museum in person in September for the opening.
I hope to meet some of you there!
**********************************