Billy Buttons Illustration – Australian Native Plants in Watercolour – 21x30cms – SOLD
My newest commission completed is a sweet little Australian native plant, Billy Buttons or Craspedia. It is a beautiful ground cover plant, native to the East Coast of Australia, with soft blue grey leaves and bright yellow ball flowers upon long stems that create a truly beautiful textural and colourful show when in bloom. It is also a wonderful subject for botanical illustration.
This subject was chosen as an especially sentimental one for my clients which is always a lovely origin for a painting. This Billy Buttons illustration will now be joining my Flannel Flowers study in its new owners happy home. The palettes of both couldnt be more compatible, we thought!
All at an A4 size, this series of Australian Wildflower studies first began with the Australian Geographic commissions. It was then added to with the Australian Government commissions, then again with private commissions. Although almost all in this ongoing series are sold, I look forward to continuing to grow this as a collection of same size works in time. Billy Buttons illustration is the 19th piece in this series, and newest addition to botanical watercolour paintings at this size.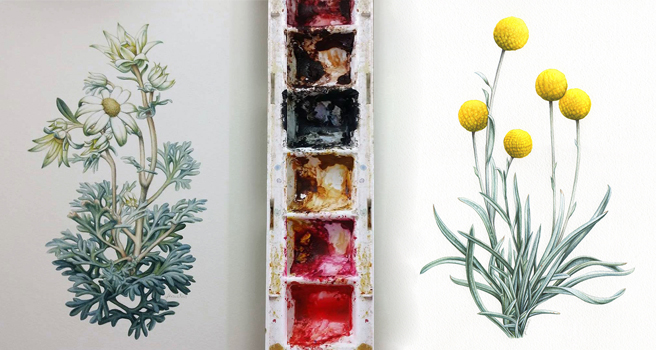 The Flannel Flowers Illustration alongside its new companion, the Billy Buttons illustration… A perfect pair!
The painting began with the rendering of a cluster of the beautiful sage coloured strappy leaves of the plant. Clean colours, crisp lines and delicate structure tell the story of this sweet subject slowly coming together. 5 stems were added following the creation of the leaves, stalks springing upwards to hold the bright yellow Billy Button flowers as the final detailing went in… and finally, completion of the Billy Buttons illustration.

… And so its off to the framers to get this painting away to its new home in time for Christmas 🙂
If you would like to discuss a commission for yourself or a copyright need in this popular series of beautiful Australian Native plant illustrations, please feel free to discuss the details with me any time
***********************************