2019 Birds In Art Exhibition, USA

2019 Birds In Art finalists from around the world
As many of you who follow my work closely are aware, I have just touched down back here in Sydney from my fantastic 2019 Birds In Art exhibition travels in the USA over September, the most prestigious exhibition in the world for bird artists to be a part of. My large flamingos painting 'The Great Romance' was selected as a finalist in this renowned bird art exhibition and it has been such a thrill to be a part of.
What a whirlwind month it has been! I guess I should say itll take me a moment to get my feet on the ground and settle in to home again, but there has been no time to waste, returning to work within moments of arriving home, a midnight meeting with clients from afar and a morning of catching my tail at last… It has been such a remarkable and memorable time, and with my energy so abuzz with the positivity, it is feeling so good to be back home so full from the experience too.
Fortunately I managed to sleep the first 12hrs and 41 minutes of the Los Angeles to Sydney leg home (can you believe that!), followed by a solid 8 hours sleep again overnight (after a good hug with Mum and Dad of course) and I am feeling on top of the world, ready to jump right back into the swing of things once more. Its a busy time ahead with several QLD botanical acrylics and watercolour masterclasses fast approaching, and of course my luxury event in NZ to wrap up 2019, another remarkable, diverse and satisfying year is coming to an end all too soon… But before I move on to all that excitement, I wanted to recap my wonderful USA Birds In Art adventures with you.

Its a long haul… to anywhere from Sydney! This trip entailed many legs to find myself in Wasau Wisconsin from home, starting with a 4am rise, the haul to the airport, Sydney to LA, LA to Chicago, Chicago to Wasau and the layovers between, clocking up to some 36hrs door to door with almost no sleep en route. It was a killer, theres no doubt about it. Time ticked by, consumed happily with the adventure, the coming and going of people, raging landscapes, sweeping oceans and endlessly evolving skies from my window to keep me enthralled throughout the exhaustion.
The skyline into Chicago was a clear highlight, watching the sky light up amongst an intense electrical storm in the nearby clouds, the nightlights of the city calling out from below like a rich wonderland. Ducking below the clouds we touched down for the last leg to Wisconsin, this magical Chicago sight topped only by the warm welcome of my driver ready and waiting on midnight for me to arrive. I was so happy to see him, I cant even tell you! Soon enough I stepped through the Hilton doors to lit fireplaces, high ceilings, comfortable lounges and a welcoming bed at last… but it didnt last long, heading right back out the doors with my friend Alan Woollett bright and early to commence our channel 7 television interviews for the event.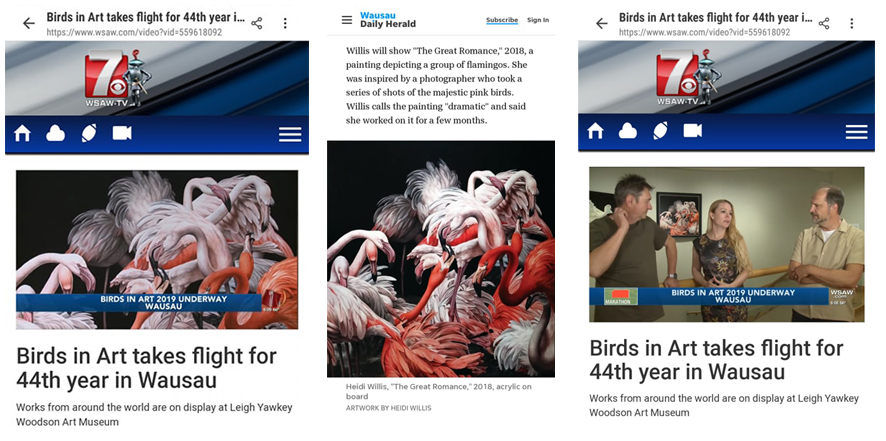 It was an amazing thing to be a part of, speaking to media, finally catching up with Alan after all these years worlds away, putting faces to the many names Id come to know over the months leading up to this moment, and enjoying a sneak preview of the Birds In Art exhibition being hung. Putting the tiredness aside, we focussed on the task at hand and had a world of fun enjoying our little moment in the spotlight. With the television interviews complete and the newspaper articles hitting the news, there was little time to rest and far too many things to celebrate to think about sleep!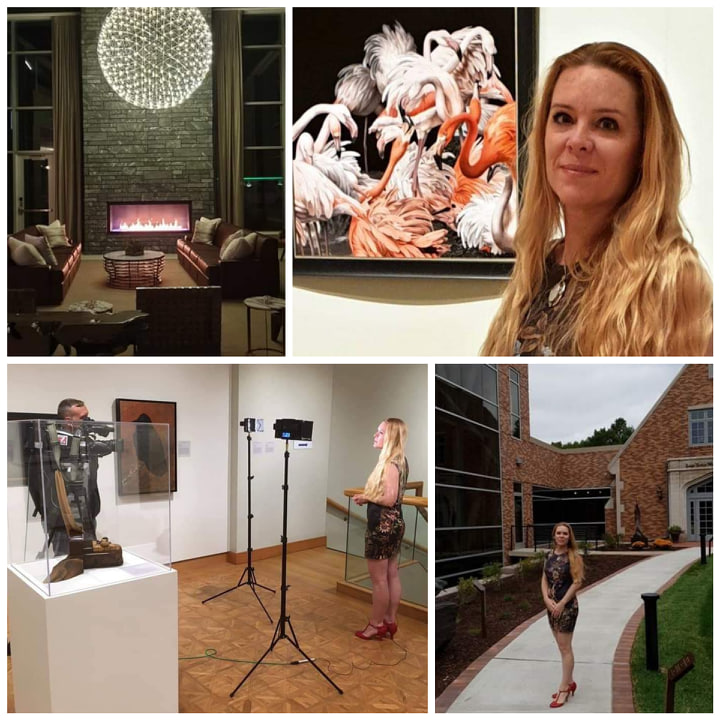 The grounds of the Leigh Yawkey Woodson Museum are stunning, filled with manicured gardens, flowerbeds and some absolutely wonderful sculptures from artists all over the world. The building itself is a perfect mix of old and new architecture, housing their important collection of international bird art, beautiful exhibition spaces and education centre. The staff are so welcoming and passionate about their involvement with the museum, a commitment reflected in every aspect of the Museum inside and out. It is a treat in itself to spend time here wandering the grounds and exhibition spaces.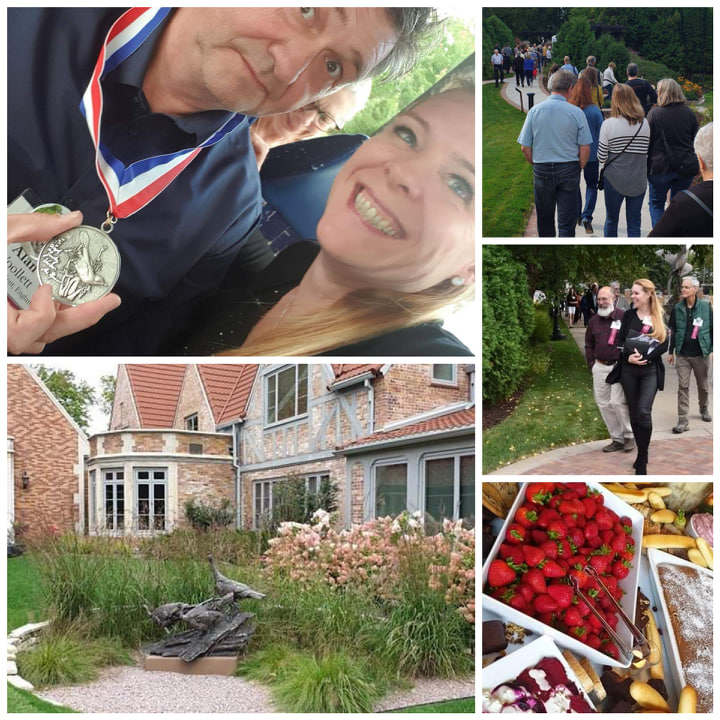 Opening night for the 2019 Birds In Art exhibition was a wonderful success, meeting and greeting so many people who follow my work, patron of the museum and Birds In Art event, locals and those from afar here to enjoy the show, artists Ive known and worked with for years but never met because of distance and of course so many new friends along the way too, all coming together for a common love. It was sensational. The gathering was large and steadily poured in day by day with people coming from far and wide to enjoy the exhibition. The huge galleries were perpetually crowded with onlookers to the event, the enthusiasm and attention of each viewer intent, considered and enthusiastic as they missed throughout the rooms and exhibits. As artists we enjoyed the many occasions we had to talk to people, share our stories and knowledge, sign books and discuss our work.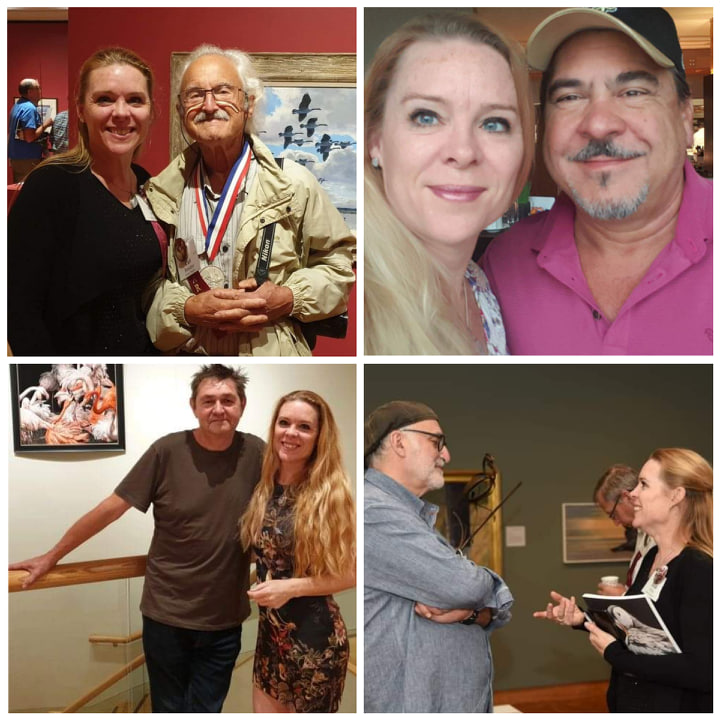 It was such a thrill to spend time with Carl Brenders, a regular in this event, speaking to me intently. Looking up at me in a quiet pause he waited expectantly for my reply and I responded 'thats wonderful Carl… but you know, I do not speak Dutch' He clutched my arm and erupted into laughter not realising he had switched languages mid discussion, and so we chatted away for some time, such a fascinating discussion and moment to enjoy with a man weve all looked up to for so long.
A new friend, talented sculptor and an all round awesome man Jett Brunet kept me laughing from start to the end of the event, speaking of his life and work helping me learn so much of his craft. It was a clear highlight to finally catch up with my long time friend and fellow artist Alan Woollett, who was this years Birds In Art Master Artist. His excellent and humble speech kept us completely amused as we learned about his life and path to art. He is just such a lovely human to spend treasured time with. The final image is another excellent artist and man, Michael Dickter, 'My American Boy' whose character and conversation I enjoyed so very much as well.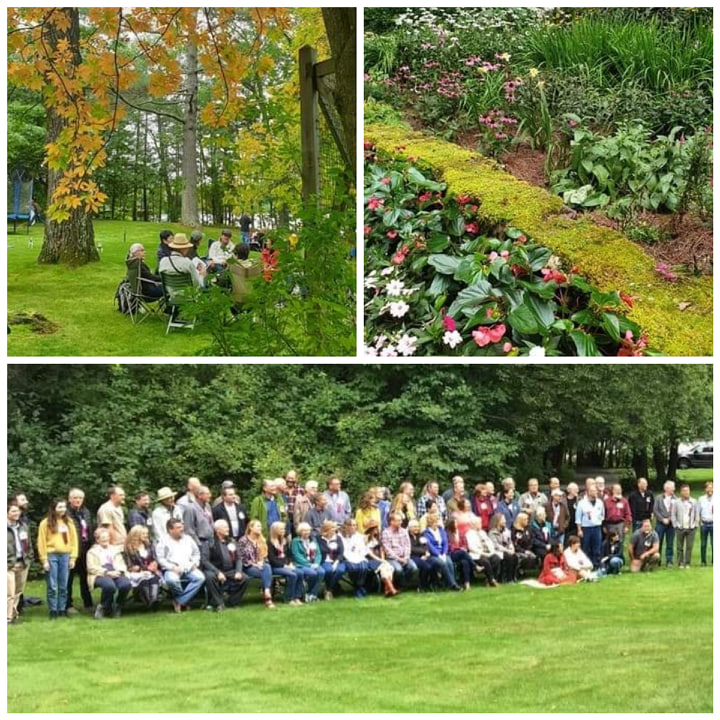 The magical grounds of the Yawkey Woodson family lake house, a spectacular evening indeed
I was also fortunate enough to play a round of croquet with Michael on the stunningly serene grounds of the Yawkey Woodson families lakehouse where it fast became clear to all those involved, why sport is not my career! Its fair to say that despite a low assumption, Michael was overwhelmed with my lack of athletic talent… Of course it came as no surprise to me hahaa. In any case, these are some of the many many totally wonderful and inspiring people I had the pleasure of their company this trip. How fortunate am i!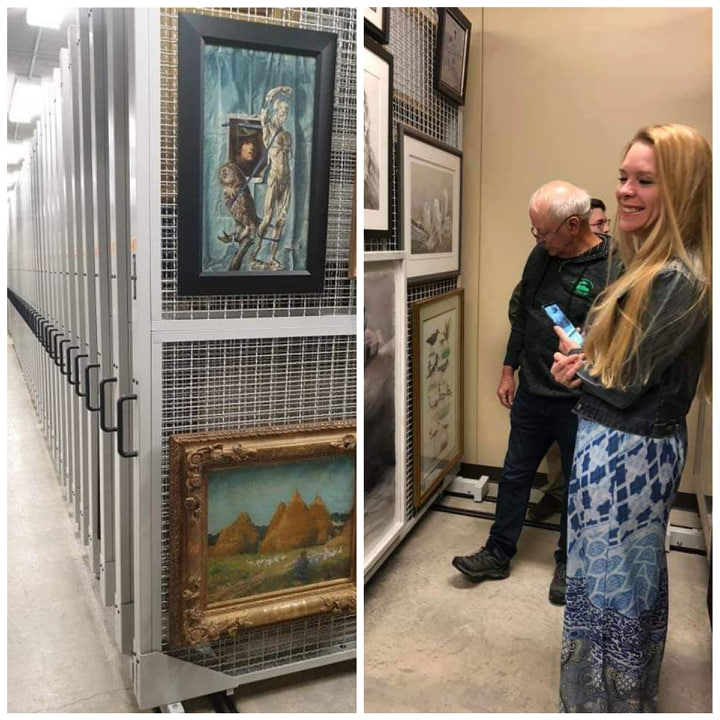 Amongst the many many highlights of this incredible event was a behind the scenes tour of the Museums incredible bird art collection archives. It was really something to see this, painting after painting of high profile bird artists treasured in the Museum for the world to enjoy. The collection is diverse and wonderful and treated with the upmost of regard. A day was easily passed drifting through the collection, taking each unique piece in at a time. What a treat to see.
The Musuem were faultless from the big stuff to the smallest detail of our entire experience. We were treated to beautiful food throughout the week too, from delicious lunches, tables adorned with endless nibbles and colour and hundreds of people joining us for the opening night celebration dinner. It really was a remarkable event and gathering, rooms crowded with people and festivities, cocktail attire and general celebration and so many fascinating people to discover. What a week, a party, a wonderful event to be a part of. Certainly it was a time of forming so many important connections, experiences and memories that I shall hang on to dearly for many years to come. Perhaps Ill be back to do it all again someday, one can only hope.
Thank you to everyone who kept me company through my social media along the way, as always, it was a world of fun being able to share these wonderful adventures with you. As many of you have expressed 'your stories are beautiful and help me to experience places I may never know' which is a remarkable thing in itself. 7 flights, a billion miles traveled and almost as many hours to make it happen, the 2019 Birds In Art adventures are over for me and its time to get back to the drawing board once again. I look forward to sharing the next project and adventure with you soon.
The exhibition runs from September 7 through December 1, 2019 so get along and see it if you have a chance!