White Waratah painting helps win 2018 HM Award for 'Best Marketing Campaign'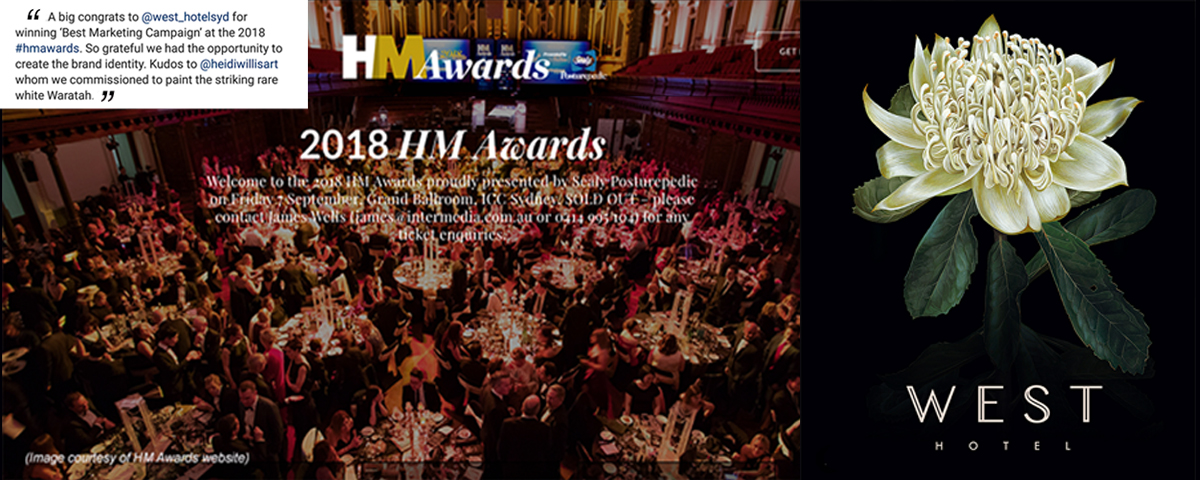 Well, Im pretty thrilled to hear this news…
My White Waratah painting has helped play a major role in my West Hotel Sydney client taking out the award for 'Best Marketing Campaign' at the 2018 HM Awards this week, and we are all excited about the win. Of course, it does look amaaaazing, all of it, and we are very worthy winners of this great recognition of our collective skills and efforts if you ask us!
On Monday, July 30, finalists were announced in 14 of the Hotel and Accommodation Excellence Awards categories. The HM Award is presented by Sealy Posturepedic which is now in their 16th year, and are the leading industry awards in the region and celebrate the best properties, departments, people, chains and brands in Australia, New Zealand and the South Pacific. Annually, over 700 people attend the HM Awards and in 2017 over 70 awards were handed out across around 50 categories. In the 15-year history of the HM Awards, over 10,000 people have attended the annual event and over 750 awards handed out.
Creating outstanding corporate identity plays such a critical role in any business, playing crucial roles in the visual recognition and identity of a business, in reflecting its values and personality uniquely and immediately, and often it needs to serve many practical applications as well… So the visual imagery has to be just right for such a client.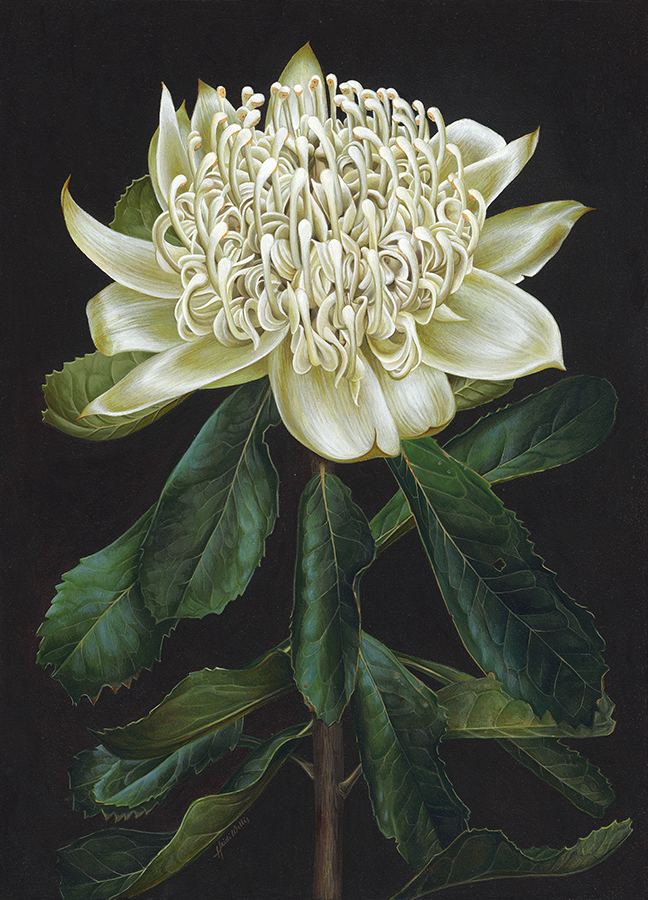 Ultimately the White Waratah painting was produced for the hotel, resulting in a strikingly elegant and memorable artwork that is fast becoming not only an iconic image of the West Hotel profile, but as a recognisable painting in its own right as well. This makes me proud as an artist, an illustrator, a designer, and for my client alike.
To have this task placed in my capable hands was really such a privilege, but i felt nothing but confidence and excitement in making it happen from the start. A project of this scale relies on many people, ideas and efforts to unite on a single vision and this has been a true alignment of talent on all fronts and a pleasure to be a part of. To work with such amazing creative clients, teams and individuals, as in this instance, is always a huge honour, and to be recognised for the work we produce in this way is just truly wonderful.