Australian Financial Review – White Waratah Illustration – West Hotel Sydney
There is nothing better than seeing your hard work and dedication to producing good work come to fruition for a client, and with the impending opening of West Hotel in Sydney, I am seeing the beautiful White Waratah illustration I created for them all over the place… or at least my followers are! Locked away in my studio as usual, seperate from the world in so many respects, reports have been streaming in to me from you all as you keep me up to date with my work and its appearances… and I am thrilled and grateful about this!
West Hotel Sydney, Curio Collection by Hilton, is an elegant boutique hotel in the heart of the city that offer guests one-of-a-kind experiences in this beautiful location, and of course, the painting that I created for them needed to reflect the look, feel and vision of this client too. I was thrilled with their decision to work with the waratah, a flower so iconic to Australia and of course to NSW particularly. Working with the white waratah specifically, brought an additional sense of elegance and sophistication to the mix, making it an ideal choice for this business. Quite apart from my own attachments to the painting, I think that the the results of the West Hotel project are tremendous, and the image… simply striking.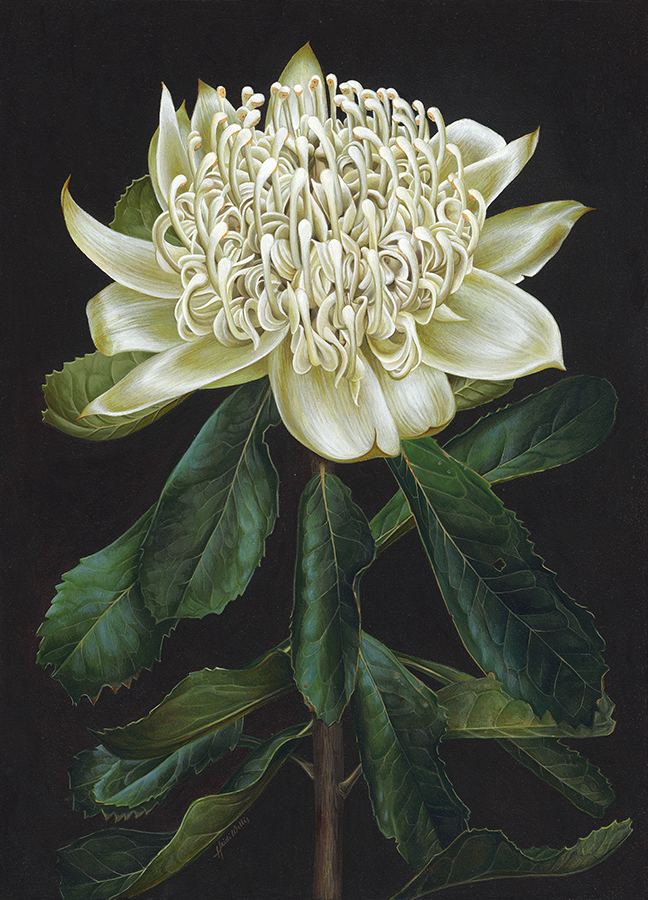 Finished artwork of the White Waratah – Acrylics
I know that so many of you followed along with the process of the White Waratah coming together over the weeks I was working on it, so its a wonderful moment to now be sharing the results of this painting post leaving my hands to continue on its way with purpose. Of course, seeing my work appear in newspapers and households so beautifully over the week has been a real thrill, and I am particularly happy to see my work adorning the pages of the Financial Review so wonderfully too.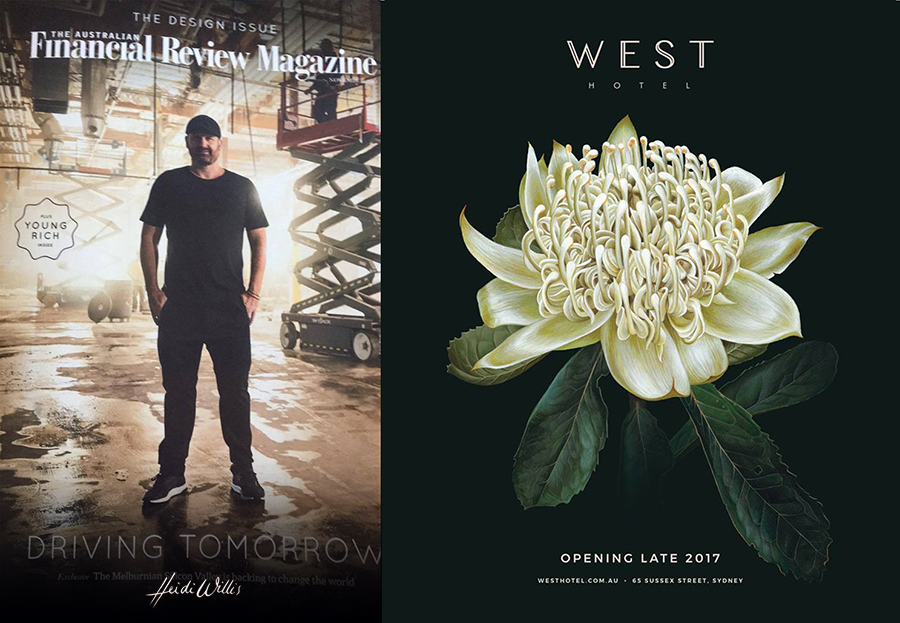 My White Waratah appearing in The Australian Financial Review Magazine and a look at one of the finished applications for this painting
Mostly I am just so pleased to see my work and client in such a beautiful marriage, its a very satisfying outcome indeed. I look forward to seeing my white waratah in many places in the coming months and years and hope that its an image that becomes quite recognisable and iconic for West Hotel. Success to you with your grand opening and new ventures, it has been a pleasure to be a part of your vision.