Vinaceous Amazon Parrots and Ceiba – 33 x 45 cms – Watercolour –
Original artwork is currently available
Vinaceous Amazon Parrots and Ceiba is the next painting in the minor series of works from the White Room Collection. Stemming from my recent Brazil travels once more, this artwork measures 33×45 cms in size, is rendered in watercolour and captures two gorgeous new subjects from this remarkable part of the world, the Vinaceous Amazon Parrot and the Ceiba tree.
Also known as Floss Silk, Kapok, Chorisia Speciosa, and a range of other names, the Ceiba is one of the most beautiful flowering trees youll ever see. Cascades of pink flower trusses adorn this compact tree, certain to take your breath away upon sight. I first painted this tree back in my early 20's when I was just starting out as a botanical artist. Id heard about this tree along the way and was stunned to see one in flower not far from my house. Of course it had to be illustrated. The botanical study I created (below) is far more simple than my more recent work, but the painting was ultimately purchased by The Hunt Institute of Botanical Documentation for their permanent collection in the USA, marking one of the first really significant achievements I made in my career as a botanical and natural history artist.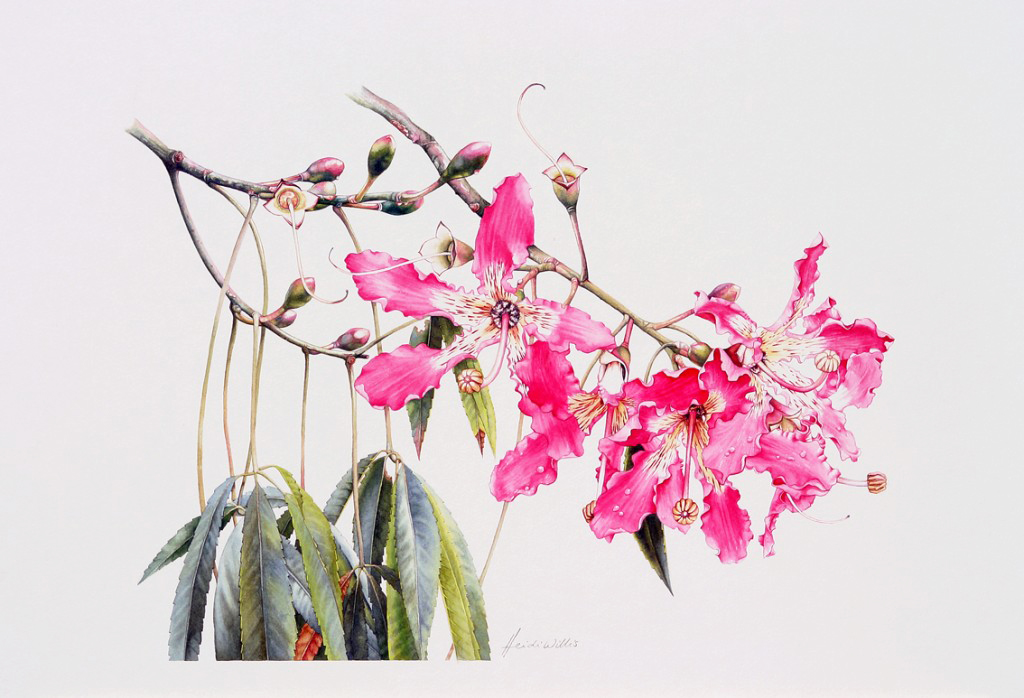 With my decades of fascination for this species, it really had to be included in my Brazil series. Id like to have painted this as a major work, but for this piece Ive chosen to work smaller, to capture the smaller and very rare Vinaceous Amazon Parrots amongst its beauty. As for the major work… lets see how I feel after tackling this very complex piece first… but you know I never say no to such things! So to get started, I have transposed all my working reference, field work, observations and exposure to these beautiful subjects into a simple composition. The pencil drawing has been completed and I am set to start working with the brushes once again.

With colour on my brushes, I am well into the painting process of the Vinaceous Amazon Parrots and Ceiba painting now, enjoying this new challenge very much. The flowers of the Ceiba are so stunning, large, frilly and pink, drooping to delicate umbrellas of delicate folds as they fade. The long white stamens remain from spent flowers give the subject such intrigue and romance, illustrating the entire life cycle of the flower from bud to the birth of the seed capsules yet to come. Hints of sky blue and fresh green cut between the flowers to tell the abundant story of the Ceiba Tree. Justice needs to be done to capture the beauty and nature of this plant, and I will do my very best to share my love of it with you through my work… and so we begin.

Todays update shows the progress on the background, flushing through with the gorgeous pinks of the Ceiba flowers. Im working my way across the top of the painting now, falling into each detail as they come before me. Its wonderful to be working with this subject again after so long.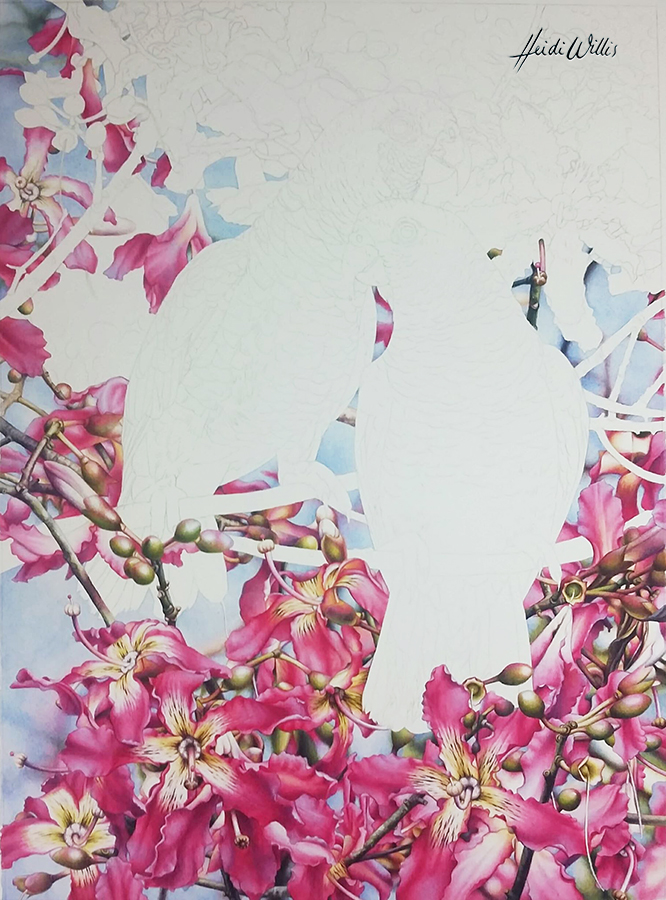 Work has continued on the background this week, completing the intricate Ceiba flowers and bokeh effects of the sky, tree and flowers drifting together in a beautiful softness. We are left with just the Vinaceous Parrots waiting to emerge, but its time for me to jump on a flight north to teach a new group of students for a week before the start of a new adventure for me, clambering around Mt Everest for a few weeks. Challenge and wonder is found in so many things! I do plan on returning, hence leaving a partially completed painting behind… To leave it undone simply will not do 🙂
My friends say they will come and recover my body in the event of otherwise, and cheers a good red wine to my memory. Dad says hes keeping my paintings. Mum says Im returning and thats simply that. My solicitor says I have papers to sign so get home. My gallery says I have an important exhibition to present, and my kids say 'but i like your cooking and cuddles!' so I will be back to settle into my studio and all these demands before you know it I promise.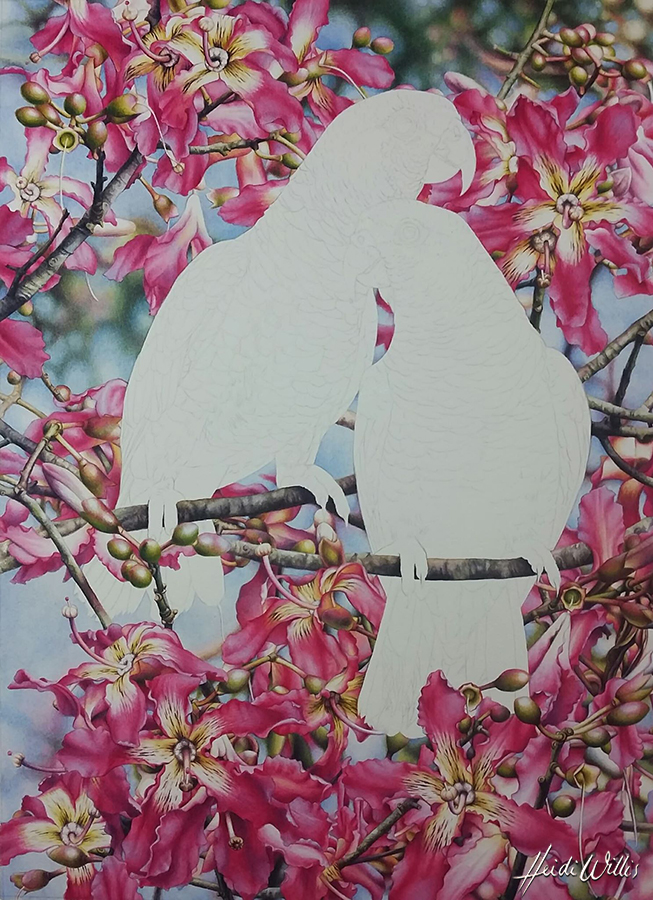 I have returned from my extraordinary travels to Everest Base Camp over the last few days and have headed straight back into my studio to continue working on my Vinaceous Amazon and Ceiba painting. I didnt quite manage to complete it before my travels so it feels great to return to it and to bring it to an immanent close in the next few studio days. The past painting sessions have been completely focussed on the Amazons Parrots of course, developing the feather features very slowly in richness and detailing towards completion, with a special love of the pink and purple collar of the parrots carrying the beautiful Ceiba colours through them both. The first is now done with the exception of the feet which will come soon enough. Tomorrow I will return to develop the other to the same finish. If you do have any enquiries on these recent Brazilian natural history studies, please let the me know. Were alllllllmost there now 😀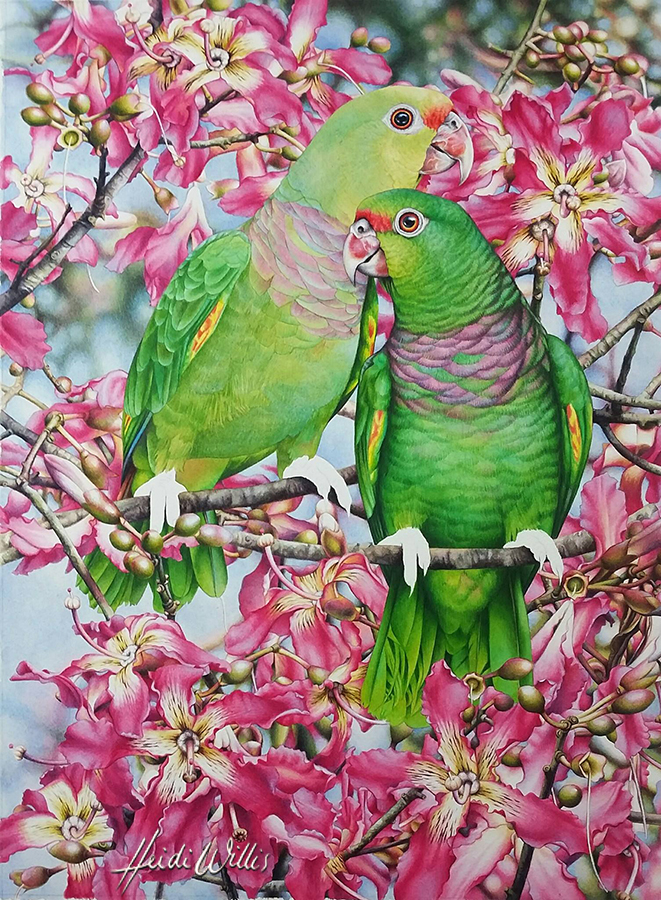 The final stage of this painting sees the Vinaceous Amazons come completion, vivid greens, turquoise, pinks and mauves. They are so beautiful. I dont have a scan dome yet but will share this phone snap from my studio on the run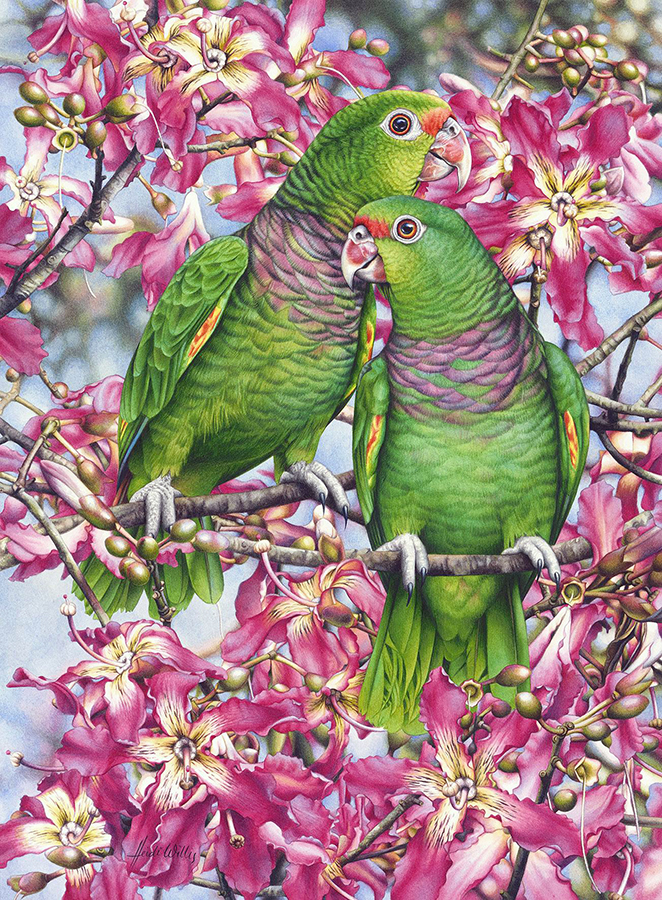 This piece is currently available, so please let me know if you have any enquires on this original painting, or check out my Shop for this image in print
Thank you as always, for following along with me on this new painting
************************************