Online Watercolor and Botanical Painting Tutorial ~ STUDIO BASICS ~ AVAILABLE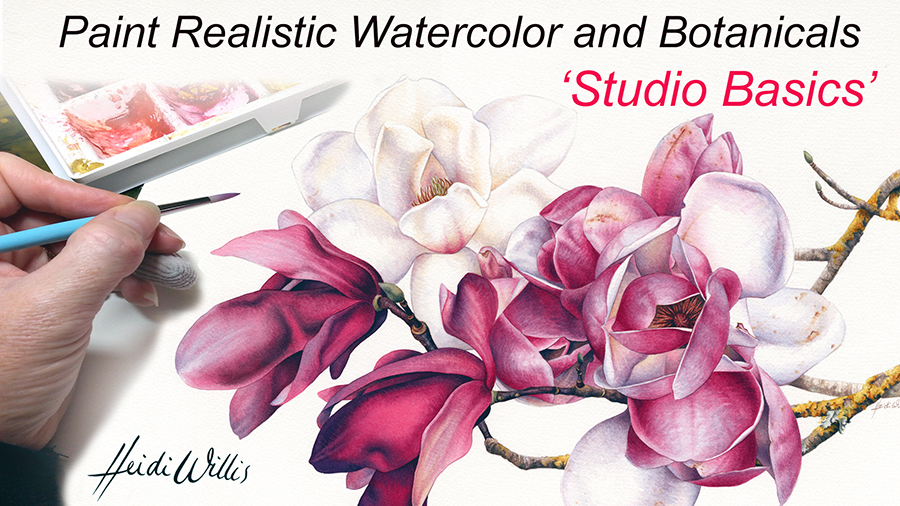 Online Watercolor and Botanical Painting Tutorial ANNOUNCEMENT ~ 'Paint Realistic Watercolor and Botanicals – Studio Basics' is now LIVE AND AVAILABLE for you to access, so wet up those brushes and get started everyone!
__________________________________________________________________________________________________________________
As many of you know, Ive been working around the clock to bring you my first Online Watercolor and Botanical Painting Tutorial, and you've all been so patient! This is indeed a culmination of months of work, years of painting practice, decades of experience and knowledge (and yes… a whole lot of nagging from you lovely people too) but it has all come together in one place now and is finally available for you today. With over 3 hours of knowledge rich content, I hope that this course answers many of your questions and gives you a real jump start on your own painting journey.
___________________________________________________________________________________________________________________
Online Watercolor and Botanical Painting Tutorial ~ Course Overview LOVE realistic watercolor painting, but you're in need of some sound, experienced advice on how to achieve this? Do you look at botanical art and think 'I wish I could create this too!' or perhaps 'I could never do that!' Well it IS possible, if you are put on the right track to begin with. To learn you simply need a desire ~ and the right tuition. It's about finding a tutor with a proven track record and getting good advice from the start. I know it's not so easy to find, but from now on, I am making myself a little more available to help you on your journey into realistic watercolor and botanical painting. If you are seeking some genuinely knowledgeable instruction from a renowned tutor with a proven, competent track record to improve your watercolor and painting skills… Perhaps this is just the chance for you!
The focus of this first tutorial 'Paint Realistic Watercolor and Botanical – Studio Basics' is to help you understand the grass roots BASICS of realistic watercolor painting. We will address common set up and studio challenges students often struggle with. We will learn practical strategies for successful outcomes. We will improve your confidence through equipping you with the right information and help you towards independent painting. We wrap the course up with two levels of water-colour painting exercises, specifically designed to develop the skills needed to continue on with my subsequent painting tutorials, and to create your own beautiful botanical paintings. This is the foundation course for ALL my tutorials, however what you will learn in this initial class will equip you with valuable footholds needed for continued independent learning in any subject.
This may be one of the most beneficial experiences your work will ever see. No matter what stage you are at, this knowledge WILL benefit your development greatly. Hosted on a professional platform, my courses offer you a safe, secure, highly functional learning environment to operate in and enjoy from anywhere in the world. There are no obligations, membership costs or concerns, just access the courses you want, when you want, where you want, and as many times as you want. You can sit back and enjoy the live stream tutorials however suits you best… Thats right, there are no limits on how many times you access my course, in fact its a lifetime access, so now you can enjoy learning at your own pace and recap areas most critical to you as many times as you need… its perfect really!  'How do I even start' you ask? Well you've already found the answer. THIS is where we begin!
A more in depth introduction to my first course 'Paint Realistic Watercolor and Botanicals – Studio Basics' can be viewed on my YouTube Channel, or in the Course Introduction by following the link below. It explains more thoroughly what the course is about, and provides you with a snapshot of the content covered in this online painting watercolor and botanicals tutorial. I couldn't be more excited to offer you this opportunity, I have no doubt that it will see your own watercolour painting skills flourish… So stay tuned for more hands on painting tutorials to follow!
By following this link, you'll not only be taken directly to the start of my course, it will automatically reduce the price to a discounted rate for you as a direct customer from my website. Learning really couldn't be easier…! All thats left to do is enjoy!
Thanks and happy painting everyone, Ill see you over in 'Paint Realistic Watercolor and Botanicals – Studio Basics' ~ Heidi