Bee and Lavender Illustration Commissions… who could the client be this time? We will have to wait and see!
So whats next on my drawing board…? Well Im pretty excited about this next project and Ill be kept pretty busy with it for the next little while thats for sure

The Project
In recent weeks I have been working with another wonderful client to create a new line of homeware products to enjoy. Although Im not able to share the client with you just yet, they have kindly agreed to let me share the work in part before it is officially released. The range features one of our favourite flowers as the focus in a series of 4 beautiful lavender illustration studies accompanied by one bee illustration in watercolour.
This beautiful new Lavender illustration commission is for a series of watercolour paintings in a botanical style that will be featured on various homeware ranges in bone china, stoneware, mugs and tea ware, placemats and coasters, serving trays, home ware textiles, cards and wrap in the range, so as a designer and illustrator there is quite a lot to consider in order to ensure my lavender illustration pieces are beautiful, versatile and functional across all applications.
My approach will be to seperate the illustrations into several pieces consisting in a bunch of lavender flowers including flowers, stems and leaves, as well as several single lavender sprigs in a botanical style and finally the sweet little bee who will accompany the floral features throughout each arrangement. This will allow my client the greatest versatility of use and styling, specific to each unique applications needs. What a gorgeous subject to work with! i have no doubt it will be a beautiful homewares range for us all to enjoy.
So its time to immerse myself amongst this new lavender illustration project and what better synchronicity can there be to have found myself standing in a wonderful lavender garden just weeks ago? Thats how it goes for me so often, its kind of amazing! I have plenty of reference to draw on and so with the conclusion of the 'business of art' side of things, its time for the 'art side of art' (our favourite bit) to flow now, starting with all the 'behind the scenes' processes of referencing, research, concepts, layouts, drawings and approvals stage of this new project.
I hope youll join me on this new adventure, bringing this new Lavender range to life. As always, I appreciate your company.
****************************************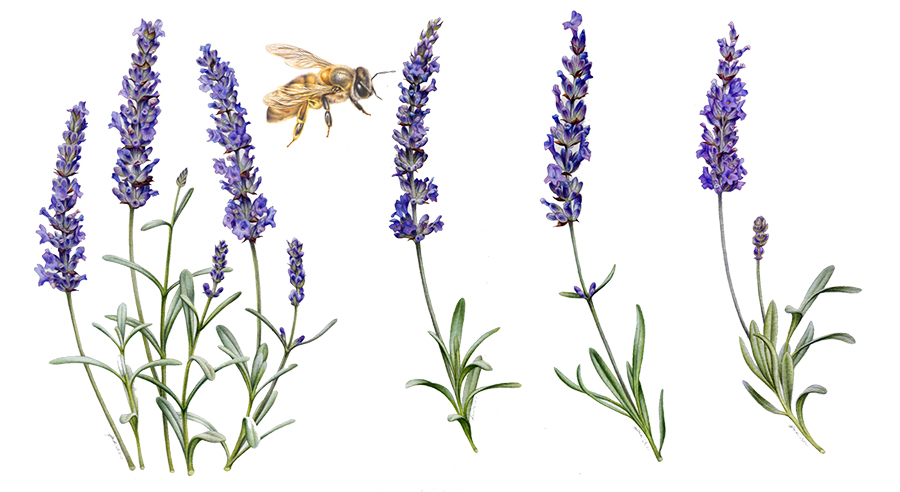 The completed collection for the Honey Bee and Lavender Illustration series
The Honey Bee Illustration
First up I have the beautiful honey bee in my sights. Although my client only needs a small illustration for their purposes, Ive decided to make it larger to continue my series of recent bee illustrations completed for the Parks Project pictured above, because at the end of the day im always an artist first, but it will also give my client far greater results and versatility in the way they use the image. Of course I like happy clients and Im never one to underdeliver, so the honey bee study is set to become no4 in this series of bee illustrations, now spanning over 2 amazing clients with 2 of the original artworks already sold into a private collection.
So, as I find myself at the end of googling things like 'bees toenails', its time to wet the brushes up and get painting… ahh the exciting life and times of a natural history artist huh…. Now wheres my 10/0 paintbrush?!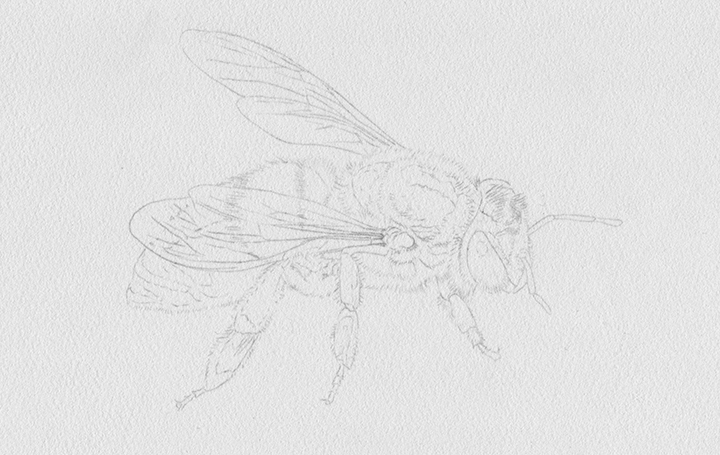 Graphite layout for the honey bee illustration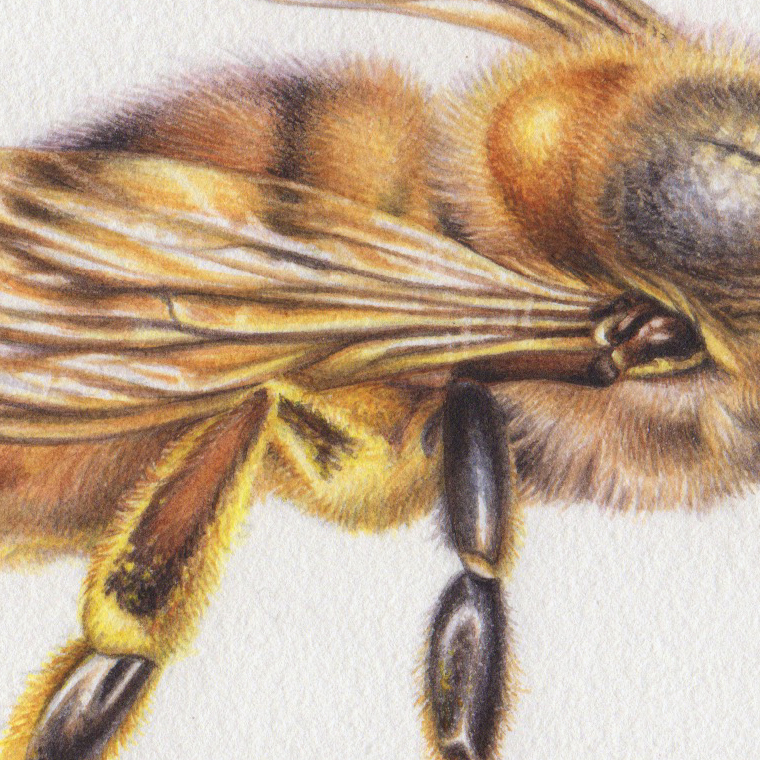 A section of the completed honey bee illustration (note – the honey bee illustration is now available for purchase)
The Lavender Illustration
The past couple of weeks have been typically amusing for this kind of work with much pondering and consultation going into determining the specific type of Lavender we want to represent in this series of botanical illustrations… there are soooo many varieties and hybrids available now we had option paralysis. 'Do you want the English variety or the French lavender…?' I had asked, as if it were to be that simple.
With names and plant images mismatching all over the place, lots of incorrect information and assumptions on what was what, we drew to a stall before even starting, ironing out exactly what lavender variety the client wanted. Days later, with the help of a botanist specialising in lavender (thank you) we finally had a decision. The email came back with this comment as a start 'Just to add to our confusion, the botanist confirmed that English lavender comes from France above 1000m. French Lavender comes from Spain, Italian Lavender comes from Greece!!!'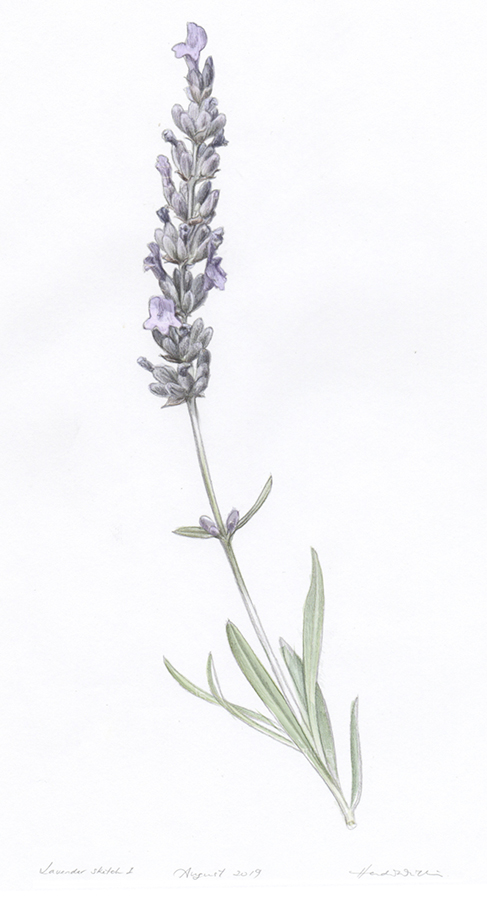 'The English style lavender has three species: Lavandula angustifolia (the true English Lavender with low camphor for cooking and perfume), Lavandula latifolia (Spike Lavender from below 1000m with long stems and flowers and very high in camphor) and the natural hybrid Lavandula x intermedia (Lavandin or hybrid Lavender used for some perfumes, soaps and cosmetics). Each of these has many cultivars which vary in size, depth of lavender blue and oil content' So you can see why we took our time both identifying and understanding lavender varieties correctly, and deciding what we wanted aesthetically as well. A lot goes on behind the scenes of this work, it certainly isnt just sitting in the studio painting aimlessly 🙂
With the direction clarified it is time to get started. Ill begin with researching, referencing, working on the layouts and drawing process keeping all the design applications and needs in mind as i go. Once those are completed and approved, I will finally move into the painting stage of these lavender illustration studies.
Its time to wet the brushes
With the last of the approvals complete it is time to revisit this project with wet brushes at the ready. There is no call for large brushes here either, nope, its all 000 and under for this brief. It is so intricate, delicate, and so full of such tiny detailed elements that the pace slows down to a crawl as I drybrush the entire lavender illustration studies from start to completion to get it just right. It is slow going and so hard on your body too, but i must say my heart skips a beat when i see how they have come together!
Its a complex palette too. In this tiny work comes a vast expanse of colour, all complexly interplaying in the micro to produce the overall results. I even found a new purple i didnt need but lusted after, so that has been incorporated in the lavender illustration set too. Winsor and Newtons Permanent Mauve has surprised me, so far enough to say id almost switch this into my palette over the Winsor Violet from here on out. It is truly gorgeous.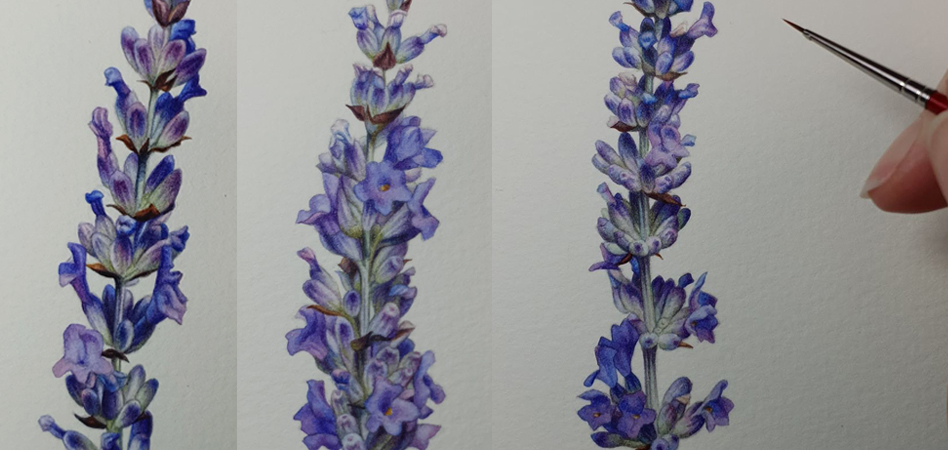 As I mentioned, Im not able to share entire studies with you at this stage, but i have a smaller section of three lavender flower heads Ive just completed to share with you now. So I have 3 down with another 3 to go. My hands are sore, my eyes are tired under the demands of the looooong, unbroken studio days, but who knew Id love lavender so much! I am really excited about this hitting the shelves in homewares for all to enjoy. I think its going to look sensational and I will definitely speak of it proudly at this rate… and with that its back to the studio to tackle another 3 lavender illustration challenges!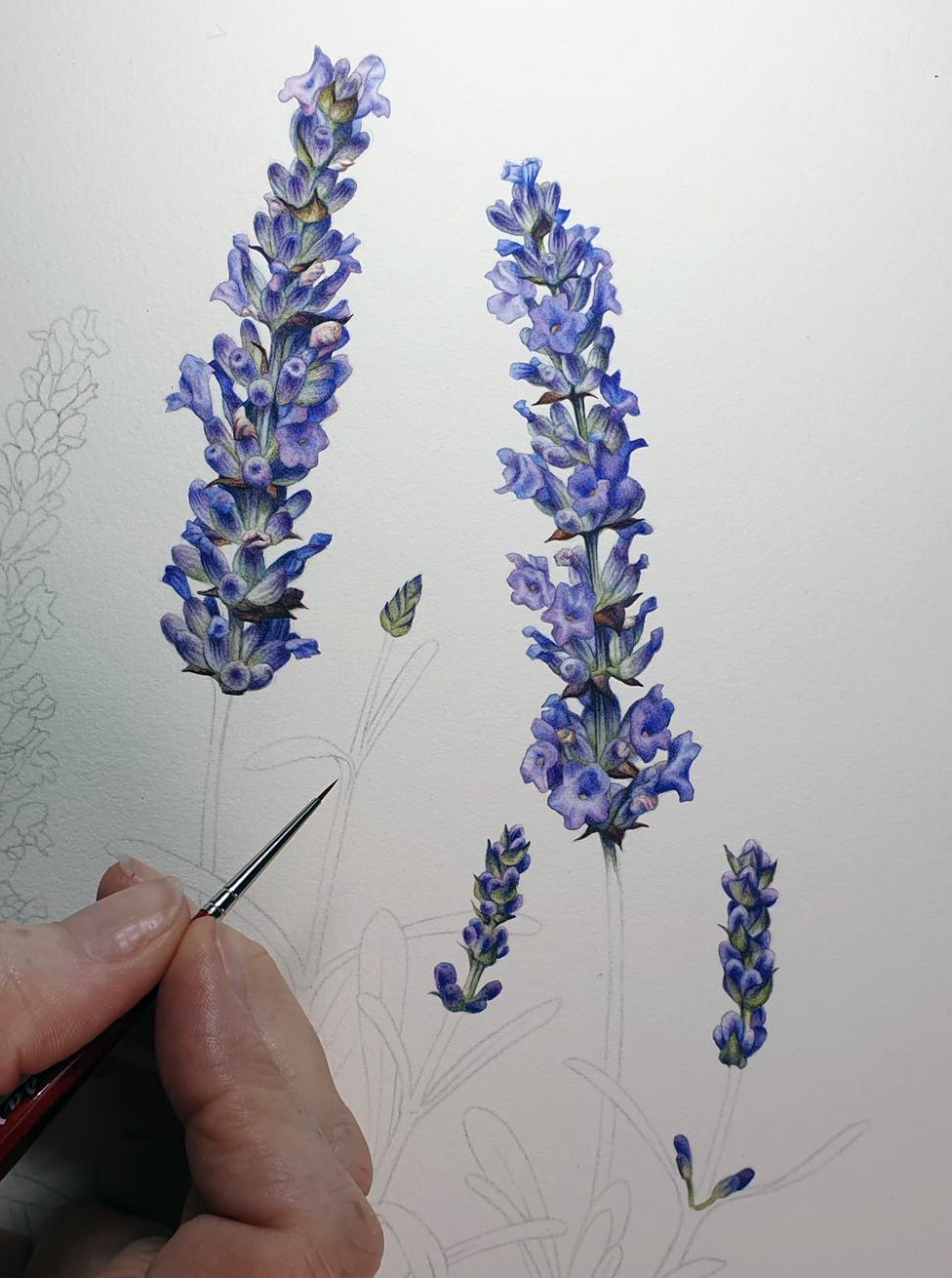 Work has begun on the bunch of lavender flowers now. Its more of the same, consistency and mindset become more important to manage well as the long hours repetition sets in. The trick is to keep the sense of thrill about every micro journey alive, to keep the love affair real. Its not so hard to do really, and once its mastered, pulling away is a restless thought to consider.
I have ironed all the uncertainties out now. I have my colour recipe down pat, I am have an intimate sense of my subject at this stage, and it becomes a process of storytelling as well as you can.
If tiredness sneaks in, you remind yourself that these lavender illustration pieces will be adorning many products in many homes for many years by many people, and the thought of an extra hour spent on a job well done soon finds its perspective. For me though, little of that has crept in for me yet. I am still very much loving this lavender illustration challenge.
The next step sees a change of palette, shifting into delicate blue greens for the lavender leaves. Ive said it before and ill say it again… Mother Nature sure knows how its done! Its slow going but im off to a satisfying start on the leaves. I should complete the lavender bunch illustration today and move on to the completion of the same in the 3 single lavender illustration studies soon after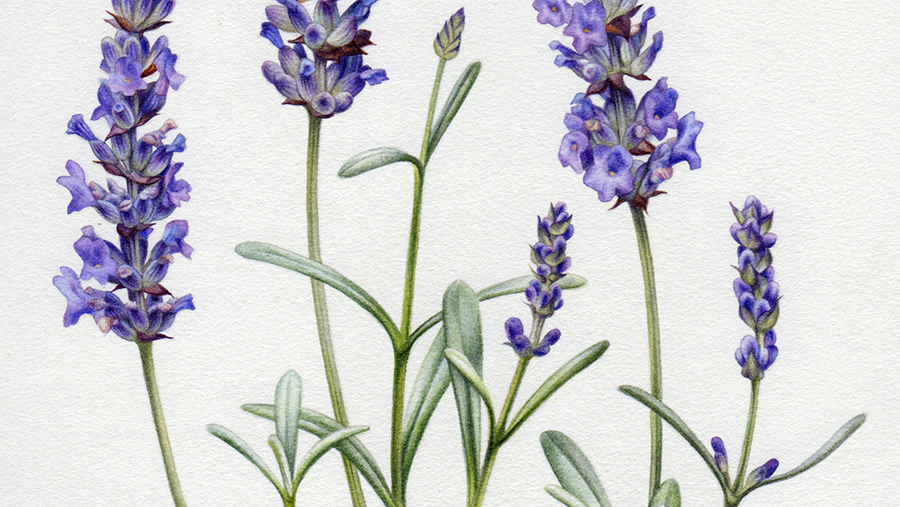 'Lavender Bunch' illustration now has a sale pending leaving the three studies of single lavender stems available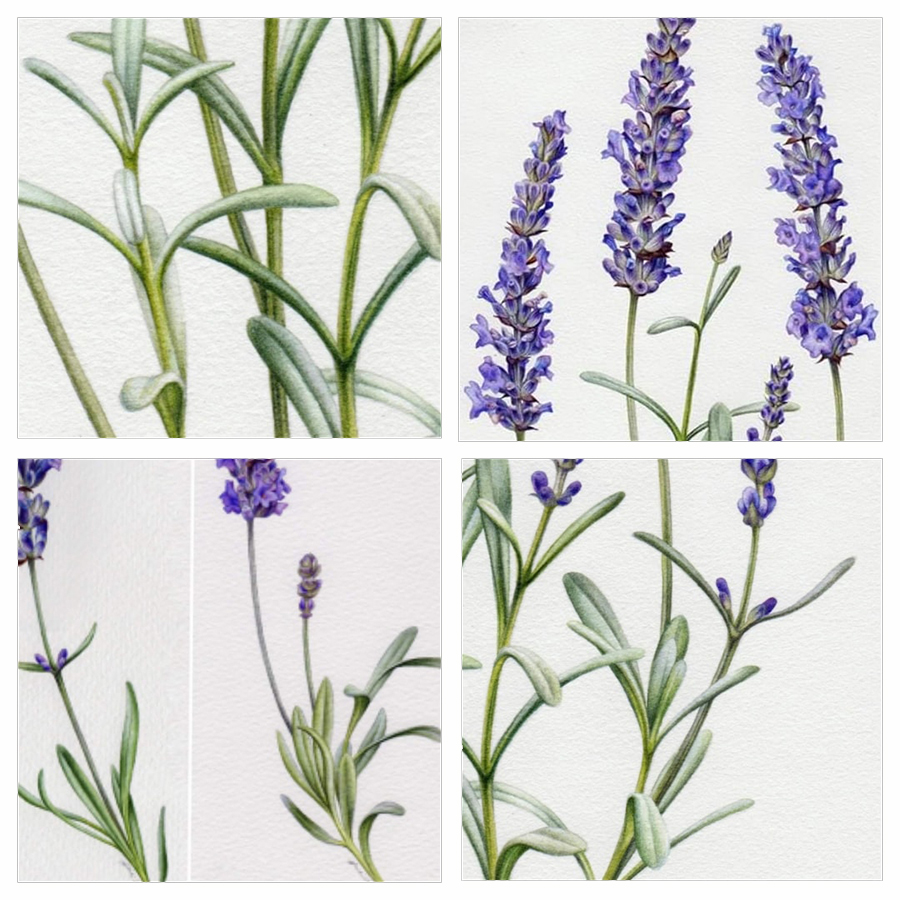 My lavender illustration series comes to a beautiful close
It has definitely been a demanding project to get through with very long days back to back and an immense amount of intricate detailing from top to bottom in each lavender illustration. The physical demands in consistently creating work like this has left me with an impinged nerve in my hand this week, but i had a great treatment on it yesterday and it will settle in time and with a few weeks away in the USA for the Birds In Art opening just days away now, it will give my hand and eyes a much needed rest.
Between my 'Birds In Art' adventures, the lavender illustration project moving into production in the coming months, and all the amazing projects I have been a part of in the last few months to follow, I am certainly set for an extremely satisfying, diverse, celebratory and exciting time ahead! Dont worry, Ill soon be back to the studio with soooo much more to come. Thanks for following me on this project, i will update you with the complete images of each lavender illustration and the homewares they with become when the products hit the shelves… they are going to be wonderful!
********************************************
Of course I can now share with you, my Lavender Fields range of homewares, which is now available from Ashdene