Australian Natural History Artists ~ Ellis Rowan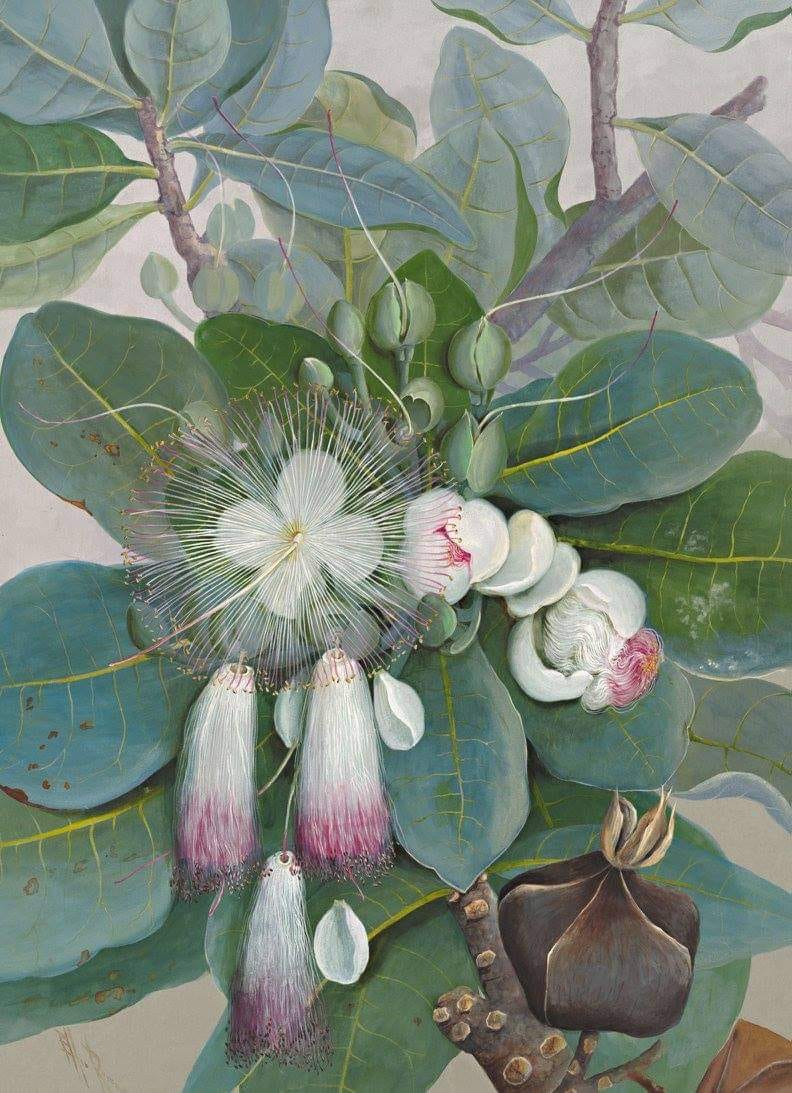 Featuring one of my favourite Australian Natural History Artists ~ Ellis Rowan. She was a remarkable woman who led a remarkable life, a prolific artist, naturalist and explorer whos work, though uniquely unrefined in some ways is absolutely, deliciously, unmistakably magical… She is certainly my kind of woman! I thought id feature her work and life here today as she is completely inspiring ~ enjoy!
An excerpt from the Australian Dictionary of Biography site 'Ellis Rowan was a small, strong-willed yet fascinating woman, an enigmatic character who forged her way through life, captivating others while pursuing her ultimate goal—the finding and painting of wildflowers, birds, insects and butterflies of many countries, often for the first time. Many were classified and named by the government botanist Sir Ferdinand Mueller.
In 1879-93 Ellis Rowan exhibited her work in international exhibitions in Australia, India, England, Europe and the United States of America and in that time was awarded 10 gold medals, 15 silver and 4 bronze. In 1888 at Melbourne's Centennial International Exhibition she was awarded the highest honours, which brought a measure of envy from a few artists who considered flower painting an inferior art.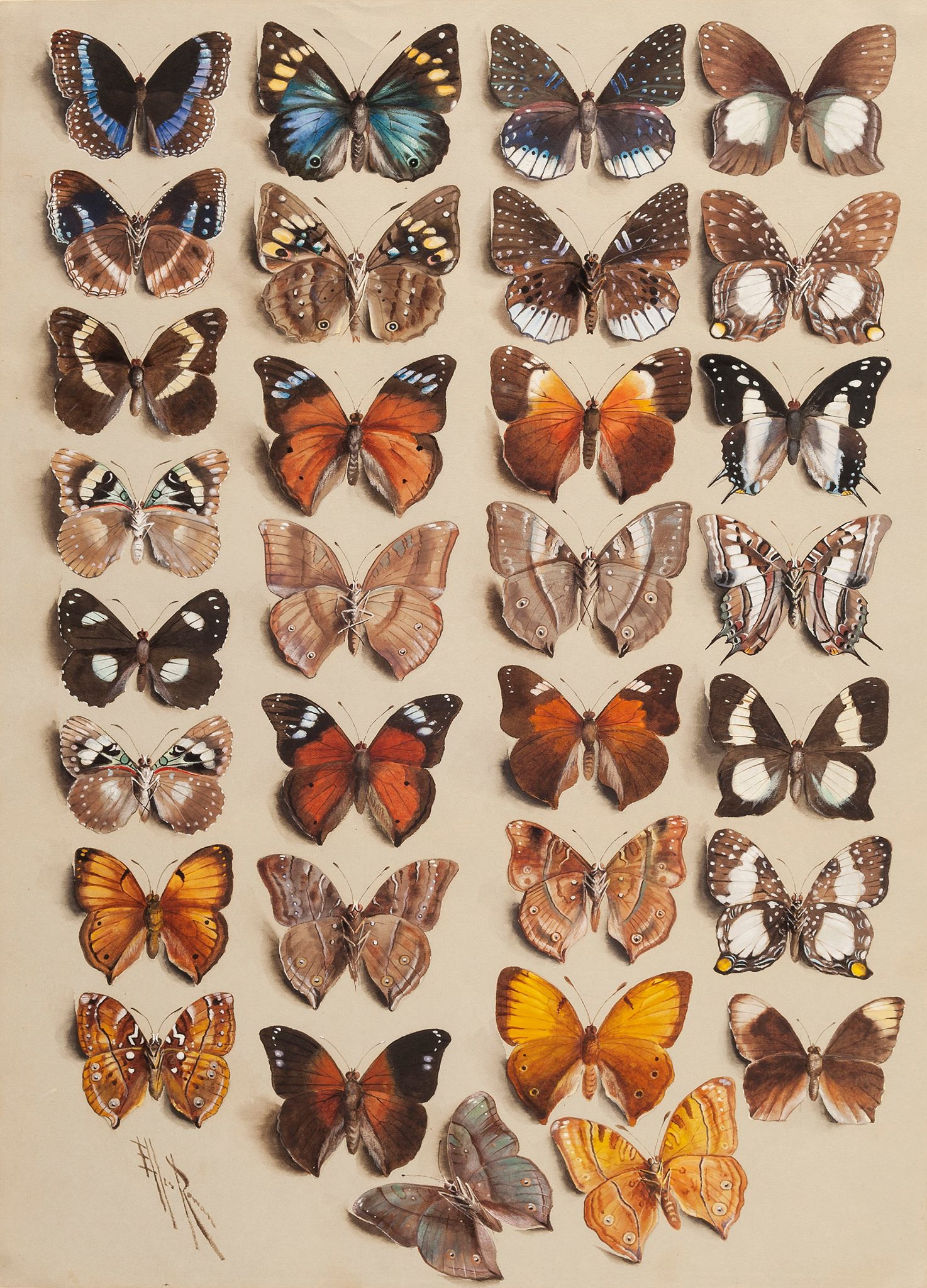 After the death of Frederic Rowan from pneumonia in 1892, Ellis was rarely in Australia; she travelled to New Zealand, London and the U.S.A., exhibiting her work as she went. Her London stay of two years brought swift fame—Queen Victoria accepted three of her paintings—and she wrote Flower Hunter in Queensland and New Zealand (1898), an account of adventures based on letters to her husband and friends. While in America she illustrated three botanical texts for Alice Lounsberry. Ellis returned to Australia in 1905-06 where she pursued her search to find and record every species of wildflower on the continent. The South Australian government purchased 100 of her paintings and Queensland 125.
In 1916-18 she twice visited Papua and New Guinea, finding and illustrating many hitherto unclassified flowers and, on her second trip, searching for endangered birds of paradise. Travelling only with local guides and living in primitive conditions in unmapped territory, she succeeded in painting forty-seven of the fifty-two known species, setting the birds free afterwards. Aged 70, broken in health from malaria and fatigue she returned to Australia, and in 1920 held an exhibition of 1000 paintings in Sydney, the largest collection exhibited to that time in Australia'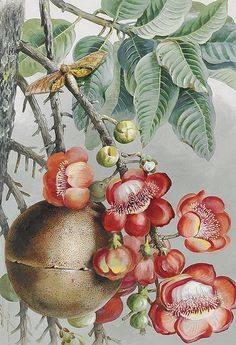 One of my own favourites, the Cannonball Tree!
The 1880s was a highly productive and evolutionary era for Ellis where she painted rare species, experimented with new mediums, produced engravings of her works which were then published, all of which led to remarkable fame and success for a woman of her time. Because of this, she became a significant example of a rare breed of independent Australian woman artists, ruffling the feathers of many in a male dominated world which saw her artworks dismissed an being 'not real art'. Her books Flower Hunter in Queensland and New Zealand was published in 1898. Following the success of this, Ellis traveled to America where she stayed for almost a decade from which she traveled further and produced further, highly successful books, A Guide to the Wildflowers 1899, A Guide to the Trees 1900 and Southern Wildflowers and Trees 1901. Returning to Australia 1905, she begun working to record and illustrate every wildflower on the continent. During her later years and despite it being WW1 years, she traveled and worked in New Guinea where she was commissioned to paint flowers and birds of paradise. She illustrated many unclassified plants, birds and butterflies, generating a truly remarkable body of impressive work.
After the loss of her husband's, Rowan returned to New Zealand. Upon her death in Oct 1922, she left a legacy of over 3000 paintings of native flora, birds, and insects, many of which were purchased by the Australian government. The National Library of Australia now holding the largest number of Ellis Rowan original works. A remarkable inspiring woman, artist, life and legacy.