Australian Artist Magazine ~ Front Cover and Feature (Issue 393)
I am just SO thrilled to announce that I have my work featured on the front cover of the March 2017 issue of Australian Artist Magazine this month! My copies arrived on my doorstep today, and despite the postman hurling them into the yard without grace, it has certainly brought a smile to my face to see them.
This exposure in such a wonderful high profile publication adds to the beautiful array of magazine editorial Ive already enjoyed in recent years. Many of these have included the front cover exposure, in publications such as International Artist Magazine, Artist's Palette Magazine and Colorphon, however I am especially excited to include Australian Artist Magazine in this collection, as this was the very first arts and painting magazine I ever saw as a child.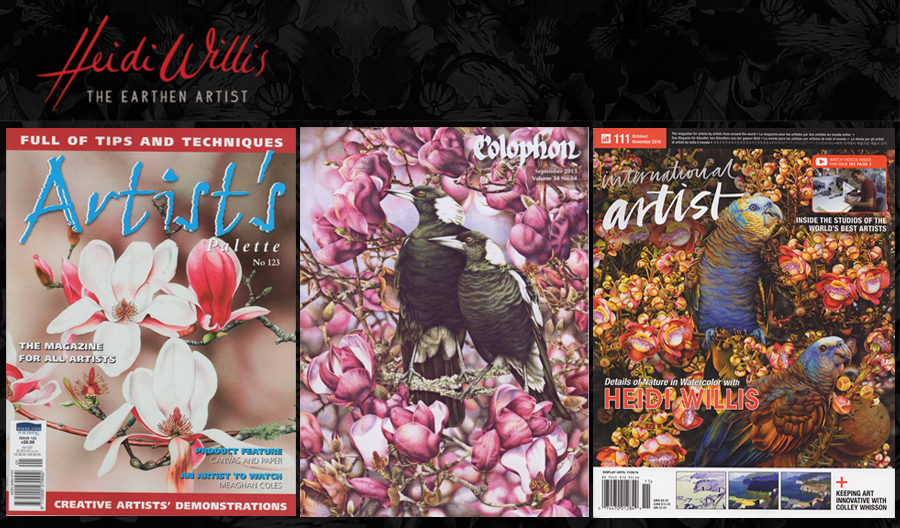 (Other magazine front covers featuring my work)
Its fair to say that my Grandmother was an artist with an enormous amount of passion and enthusiasm about her painting, and everyone else's too, but she possessed no attention span for the craft outside of this what-so-ever. Her brightness and humour was so delightful, her approach to painting and creating is to me even now, the epitome of what the painting experience should be, vibrant, enthusiastic and joyful not only in the process itself, but about the larger world around us.
Over our visits to her home I would sit amongst her chaotic collection of art supplies, stacks of half finished paintings, photographs of everything that had inspired her (which was everything) But there was always one consistent element to the homescape of her place for me, the piles of Australian Artist magazines she had gathered over time. She'd always lay them out for my arrival, or at least point out their various locations to me, and Id sit there, sifting through the pages of artworks and paintings illustrating their progress one at a time, and wonder how such things could be achieved.
Id never thought about being a painter myself back then, but when I think back over the bigger picture, Australian Artist magazine is definitely the publication closest to my own heart. It has been a very real part of my journey to where I am today, to this moment where my own work would now be featured on the front cover of that same magazine! Interestingly, the very last painting my grandmother watched me produce, also went on to be my very first article and work in progress editorial featured in Artist's Palette Magazine many years ago.
Perhaps she knew? Perhaps the sum of all the little things that inspire us along the way is also the sum of who we become. Perhaps she at least knew the value of inspiring others in any way possible. Who can believe what those little exposures can unfold in life, and what is possible as a result… How much my Gran would have LOVED to see this achievement for herself today.
To become a little part of what once inspired me on my path now is so wonderful, and the opportunity to inspire others in turn is remarkable. It has been such a pleasure working with the Australian Artist Magazine team to bring this new article to you, and it wont be the last either. The March 2017 feature includes the front cover and a four page article on my work, which is in fact, a prelude to a larger article set for the press later in the year.
I hope you enjoy the article and my work, and that you'll keep an eye out for the next edition which will include my 'Black Cockatoo and Tree Waratah' in watercolour commission as a work in progress.
This issue is now available online