International Artist Magazine ~ Thank you everyone!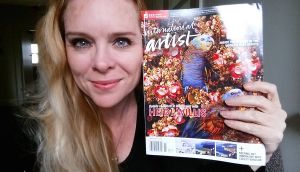 As many of you are already aware, my watercolour major work 'St Vincents Amazons and Cannonball Tree' was featured on the front cover of Issue 111 of International Artist Magazine last month, a blissful thrill for myself and for all those around me.
International Artist Magazine covers several of my bird paintings and botanicals in their October/November 2017 edition, with the spotlight on the creation of my Sulphur Crested Cockatoos and Silky Oak major work. Measuring 100x72cm/40x28in in size, this watercolour painting took many months to complete, with the process documented beautifully in this article for you.
Since its release I have been flooded with such positivity for my work, that it makes me only more determined and focused to work hard and to keep reaching for my vision. Such wonderful support and warmth from so many, reminds me of the remarkable value of bringing something beautiful, uplifting and inspiring to the world and urges me on in so many ways. Its wonderful to think that what feeds me, also feeds you!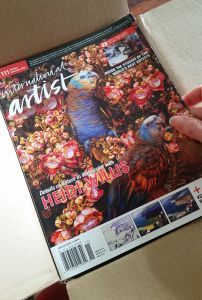 Thank you everyone who has taken the time to message me after reading the article, and for your support that has reached me in so many ways. Ive just loved how you've shared your thoughts and words with me, as well as your pictures holding your copy of the International Artist Magazine… thank you to every one of you for making this adventure and experience even more delightful!
An update on artwork featured in this article and other news
Sulphur Crested Cockatoos and Silky Oak ~ The original painting is now sold and belongs in a private collection
St Vincents Amazons and Cannonball Tree ~ The original painting was a finalist in the prestigious Waterhouse Natural Science Art Prize and has been on exhibition in the South Australian Museum for some months. Following the close of the Museum exhibition, St Vincents Amazons and Cannonball Tree went on the National Tour, and was on exhibition at the National Archives in ACT until now. I expect it to finally return home to me in the next week (Dec 2016) but this has been such a successful and memorable piece… On exhibition to thousands of viewers in recent months, I have been flooded by so many of you messaging in the same remarkable way as this magazine exposure, and thats just amazing thank you all so much. I am looking forward to being reunited with this painting after such a long time away! St Vincents Amazons and Cannonball Tree is currently available, so please contact me if you have any enquiry on this very special original.
The previous International Artist Magazine article on my work appears in Issue 86
If you are still searching for your copy, it is available online by following this link