Sulphur-Crested Cockatoos and Silky Oak ~ 100x72cm / 40x28in ~ Watercolour – SOLD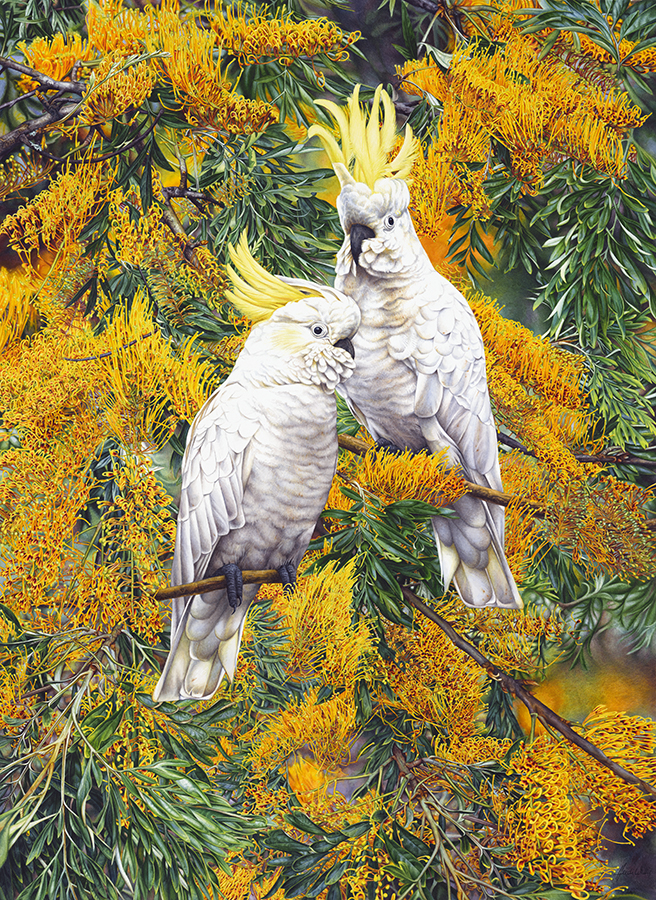 Exert from my WIP Blog Paintings for me come like visions, instinctive, crystal clear snapshots of a moment of time that simply must be explored. In recent years Ive more and more consciously followed my instincts on what I need to paint, and the rush and certainty on each one when its 'right' is undeniable. Its a certain type of language. The more I listen and remain true to my instincts, the more I trust myself, the more I trust the worth of my efforts, and the further I am carried as an artist. Every painting I create is so unique, each with its own story, a slice of place, time, events, memories, emotions, all tied intrinsically into each one. Paintings that are tied to the most powerful part of your intuition become the most significant ones of all. I produce these major works for no reason other than to please and push myself, and to be true to my creative instincts. Considerations of time, effort, money, the practicalities of creating signature works such as these simply do not come into the equation. These are the luxuries and my most personal indulgences of exploring my craft as well as I can, and they are without a doubt, my most personal works.
Bringing botanical illustration and bird painting together in these major works, Sulphur-Crested Cockatoos + Silky Oak is the second in this series of signature career pieces. Collecting the richness and earthiness of the first piece 'St Vincent Amazons and Cannonball Tree', this mind numbingly complex piece shifts into a vibrant yellow palette, set against the calming white of the Cockatoos. Neither are easy subjects to render by any means, certainly in a representative manner as my work is. Retaining a strong 'painterly' element to my paintings is in fact extremely important to me however, so I am undertaking this piece with a few specific focusses… To refine my detailed work, to practice capturing a sense of detail using quite painterly approaches, to explore the use of yellow (an extremely tricky colour to work in) to refine my techniques in achieving 'soft focus' effects, to achieve a greater sense of depth in my work, to tackle the subject of 'white' (eeeep!) and to harmonise these elements seamlessly.
The Silky Oak (or Grevillea robusta) is a subject that came to me as a vision some time ago, one which I tried so hard to pop under the rug because it is so insanely complex to illustrate Grevillea, it borders on madness… and I knew that all too well! For so long Ive put this piece on the back burner but it never stops nagging me, this time though it reared with a vengeance and I knew it was time. The very day I decided it was time, the Silky Oak appeared to be suddenly flowering all around me! The trouble with this tree however, is it is enormous and all the blooms tend to stick to the highest of the tree tops, lighting each up with a blaze of woven golden orange combs of flowers, trusses of cascading colour so abundant that they drip nectar on you as you stand beneath the tree. Now I have been known for a long time to be a woman not afraid to climb to the tree tops in high heels before, but this tree was a definite challenge this time.
A road trip was planned and away we went, hunting for a single low flowering tree that might be the ideal focus for my new painting. Perseverance… much perseverance, finally payed off and we stubbled across two trees, so amassed with flowers, so much that they tumbled to the ground, the holy grevillea grail in my mind. Reference was gathered so enthusiastically that onlookers watched on perplexed, birds screeched at us angrily as they were forced to share their bounty, and we returned to the car covered in sticky nectar from head to foot, grinning all the while. Yes, a hard day in the office! In fact there is a LOT of work that goes into research and resources before any painting can even begin, but it can be such a fun process. In fact, this is where you really connect with your subject not just physically but emotionally, and thats whats needed to see a piece like this through
You can follow the creation of this painting more closely on my Facebook Page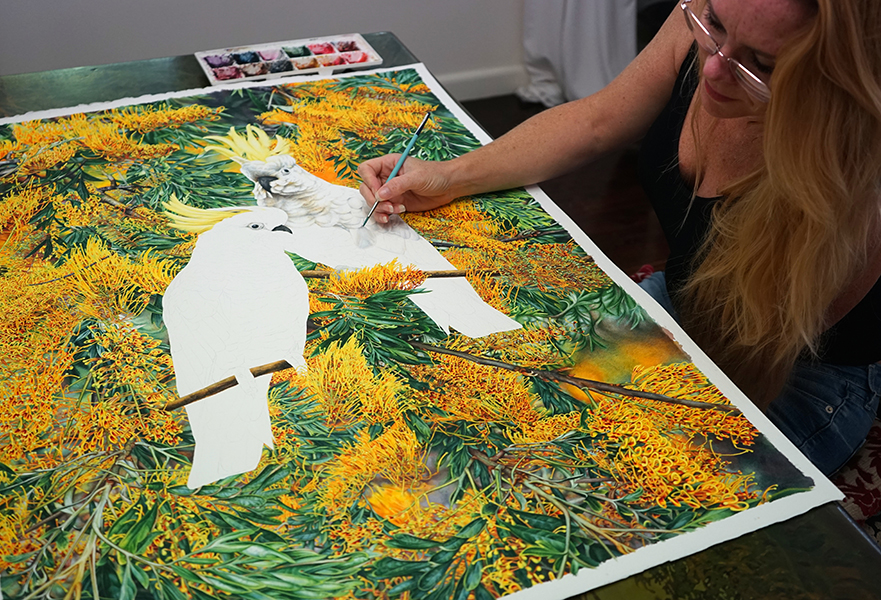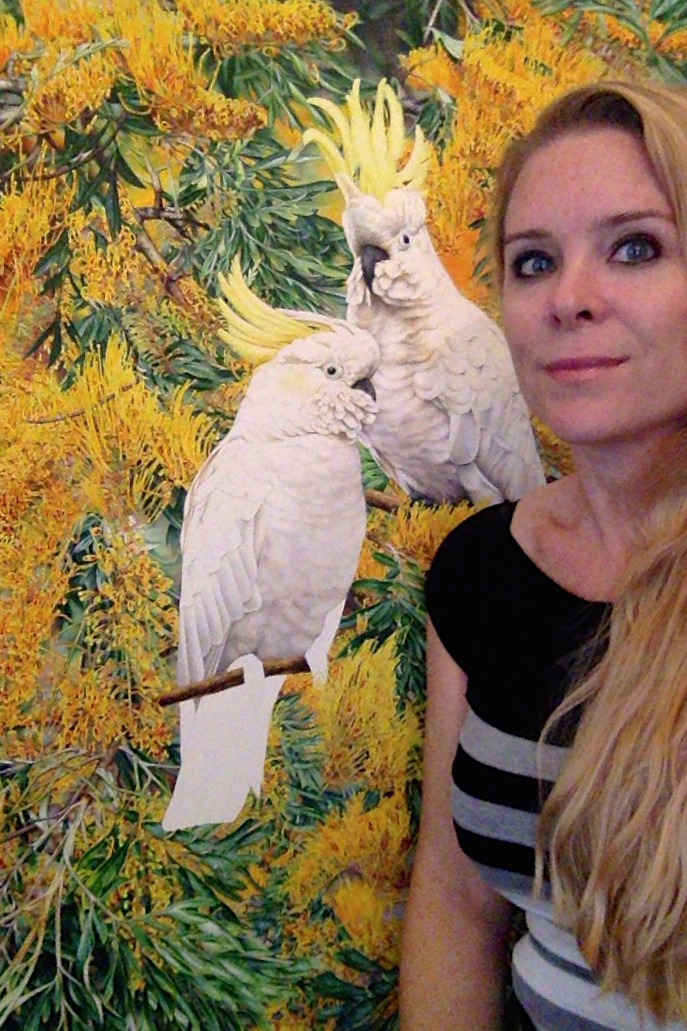 The original artwork of Sulphur-Crested Cockatoos and Silky Oak is now SOLD
This painting is now available in print