Red-Fan Parrots and Cannonball Tree – 45 x 33 cms – Watercolour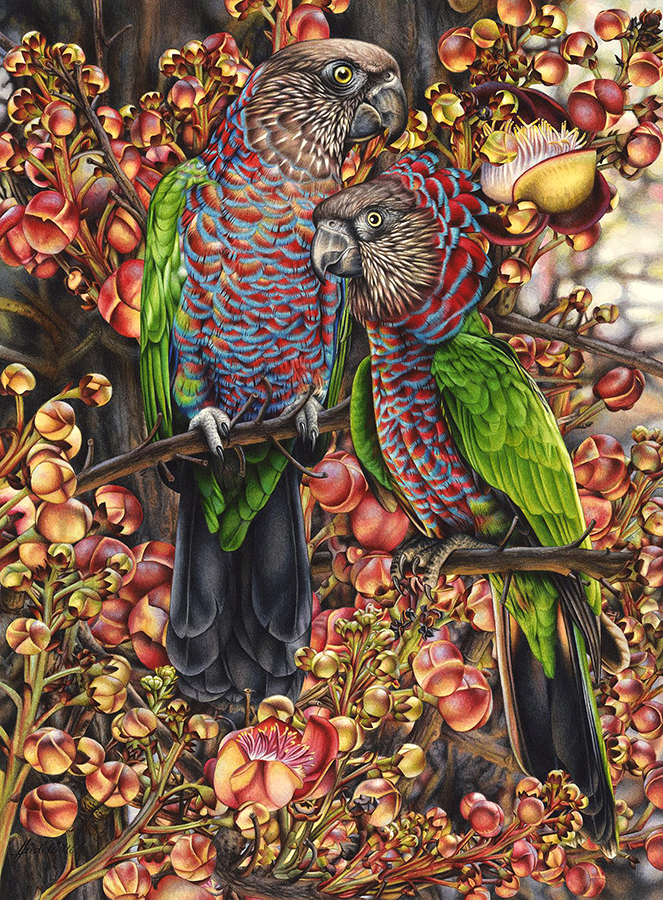 'Red-Fan Parrots and Cannonball Tree' is the newest painting in my series of natural history watercolour paintings that stem from my recent and incredible Brazilian travels.
The Red-Fan Parrots are a highly endangered species from South America. Their features are so powerful, unique and dramatic that it was in instantly memorable experience to see these incredible birds for the first time. Beautiful they certainly are… To have a chance to work with them so personally was one that I simply could not overlook. Of course they quickly became an essential component to this body of work and had to be captured. This painting not only captures their beauty with the scientific accuracy I insist upon in my work, but it also captures their intensity and yet their remarkable tenderness of their nature or personalities. For me, reflecting the true nature of my subjects is a critical element of all my works.
'Red-Fan Parrots and Cannonball Tree' original is currently available for purchase. Please let know if I can assist you with any enquiries on this painting.
Red-Fan Parrots and Cannonball Tree is now available in print through my Etsy store!