Honey Bee Illustration – Available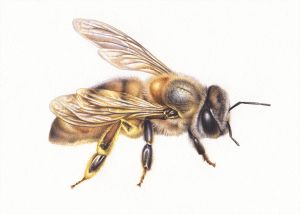 In recent months Ive been busily working on an amazing project, illustrating around 40 natural history subjects to adorn 6 of Sydneys major parks including Glebe Foreshore, Jones Street Pocket Park, Kimberley Grove, Orphan School Creek, Victoria Park and Sydney Park.
Part of this brief was to illustrate a series of 3 bees which not surprisingly, I fell completely in love with bees as a painting subject. In this watercolour series I captured the Fire-Tailed Resin Bee, the Blue-Banded Bee and the Reed Bee, and I knew Id be back as soon as possible to continue developing this series after the close of the Parks Project. Remarkably, my very next projects brief came onto my studio drawing board and it included an illustration of yet another bee… Its funny how it works that way so often!
And so the 4th in this series came to life, this time with a beautiful fuzzy, warm, pollen spattered little Australian honey bee illustration. Of course we all adore the honey bee and i couldnt have chosen a more fitting addition for the series myself as she is just such an essential sweetie! In this case my client only needed a small bee illustration for their purposes, but I decided to increase the size and quality of the Honey Bee study to keep it in line with the others, which all measure 15cms from tip to tail.
With the rights on all 4 bee illustration studies sold and 2 of the originals already enjoying their new homes, I am left with just the Reed Bee and the Honey Bee paintings available, either as individuals or as a pair… Please let me know if youre interested in these pieces for your collection, they really are very special paintings built on nothing but love and fascination for these remarkable little creatures.