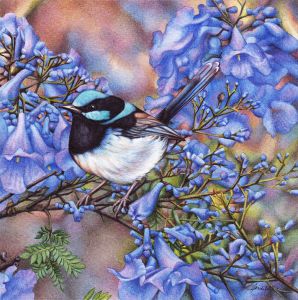 Blue Wren and Jacaranda – 1 of 2 – 15x15cm Miniature Bird Painting in Watercolour – SOLD
The first of a pair of Blue Wrens in the beautiful Jacaranda comes as the jacaranda erupts into spectacular colour over NSW turning streets, gardens and lawns to mauve blue is it dominates the season in style in perfect timing. Certainly the jacaranda is a challenging subject to paint, bringing its impossible tangle of loose shapes, soft form, uniquely deceiving colours and delicate texture to the party, but what a show it is! It seems essential that I have finally made time to capture this beautiful flowering tree in my work, all be it on a small scale – for now.
The newest pair in my current series of small birds in watercolour miniatures has been commissioned for a new home with blues, mauves and soft greens as a feature. Each painting captures a beautiful Blue Wren, coming together along a single branch when hung together. Blue Wrens and Jacaranda embodies so many memories and loves we hold of life outdoors here in beautiful Sydney.
You can learn more about this bird painting coming together in the blog section of my site, click the link in the heading description and follow its progress from field to fruition. As these miniature small bird paintings tend to sell well ahead of time, please let me know if youd like to discuss securing a commission for yourself and we can talk about an option just right for you!
Blue Wren and Jacaranda (1 of 2) is SOLD