White Waratah Painting – Acrylics – 32×44 cms

Its a busy time of year in my studio… or maybe thats just all year round, isnt it!
With the work on my new online watercolour and botanical painting tutorial MAGNOLIAS complete and the course live at last, I quickly ducked away from my new King Parrots and Poinciana commission to take part in a huge week of painting masterclasses in the Far North of NSW before scooting back home to catch my breath just long enough to cut the cake for my sons 21st birthday, before getting back into the studio again. It has been crazy, but all the right kinds of crazy at least!
With my travels approaching fast I have two amazing projects on the go at the minute, both of which I really love. Placing the King Parrots on pause briefly, I have begun work on an especially exciting commercial commission, designing and creating a gorgeous white waratah (or Telopea) artwork for a beautiful boutique hotel here in the heart of Sydney… such a wonderful part of the world.
The hotel will be using my image for their corporate concept across a range of wonderful applications, once again showcasing Australia's wonderful natural world and the beauty of botanical art as it so deserves. Of course I am more than thrilled to be their artist of choice, and I am really looking forward to seeing the final outcome of this project. First things first though… creating a wonderful painting!
Fortunately for me, my cousin happens to be one of the worlds leading authorities on the waratah and has been responsible for breeding some truly stunning varieties of waratah in his time. From divine pink, apricot, yellow and of course white, I had a healthy swag of reference I was able to tap into on this project. And so I began carefully designing and constructing the flower drawing, layouts and mock ups drawing from many years of reference collecting, refining the image more and more as I move closer to the painting stage.
This is more than just a painting, it is a multi purpose artwork that requires careful consideration in many aspects of design, applications, aesthetics and rendering, requiring extensive experience and expertise on many levels in order to meet my clients needs. My submission was met moments later with the response 'you are all over it!' and a nod of approval soon after… and with that, another long studio day is under wraps with a smile, the daylight hours are long gone and I can finally rest my weary eyes and body, ready for tomorrows studio time.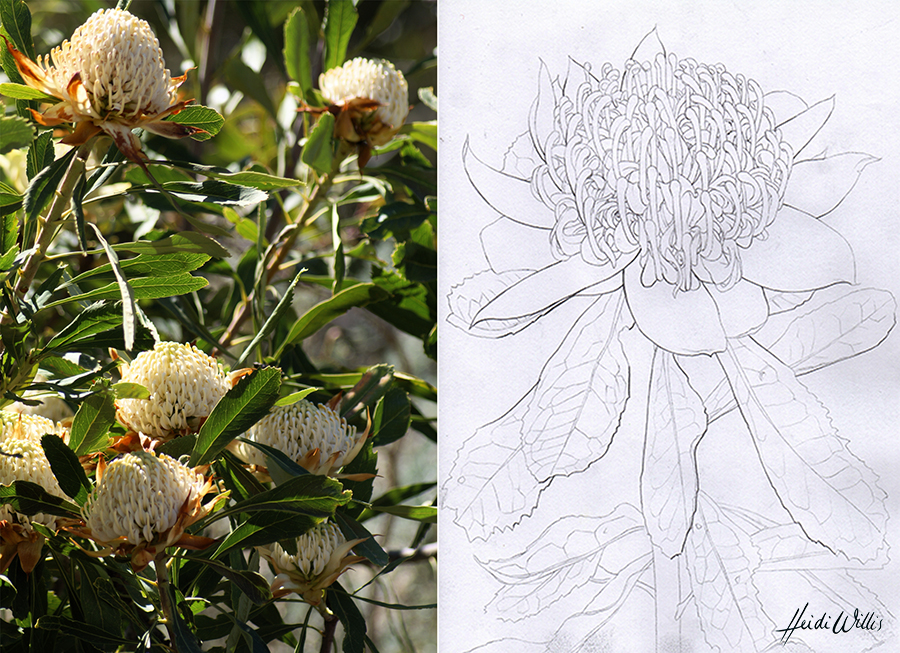 White Waratah reference and approved concept drawing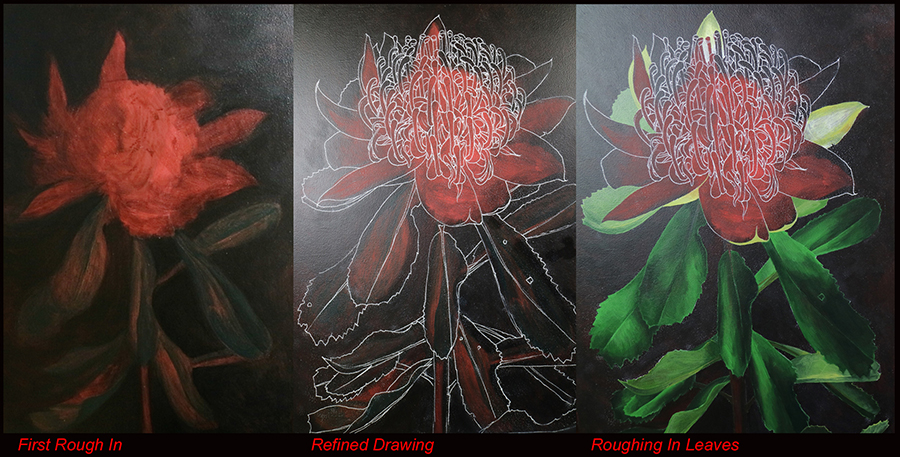 The next steps
Moving into this painting, the first image shows the general roughing in of the waratah subject. The brief is very specific, and requires a black or very dark background. This first stage helps me get a sense of form, placement and tone for the over all painting. Once the surrounds are roughed in I create a refined drawing onto my board ready for more specific rendering. With the drawing in (white so I can see it on the dark background) I begin roughing in the vivid earthy greens of my leaves, again, to give me a sense of structure, placement, contrast and form.
Even in this early stage of development, the painting begins to come to life, but there is much to do to get these details right… I know i know, I am particular! Its just that I fall so in love with colour, detail and texture, to omit this information would speak no language for me at all, certainly not one of love.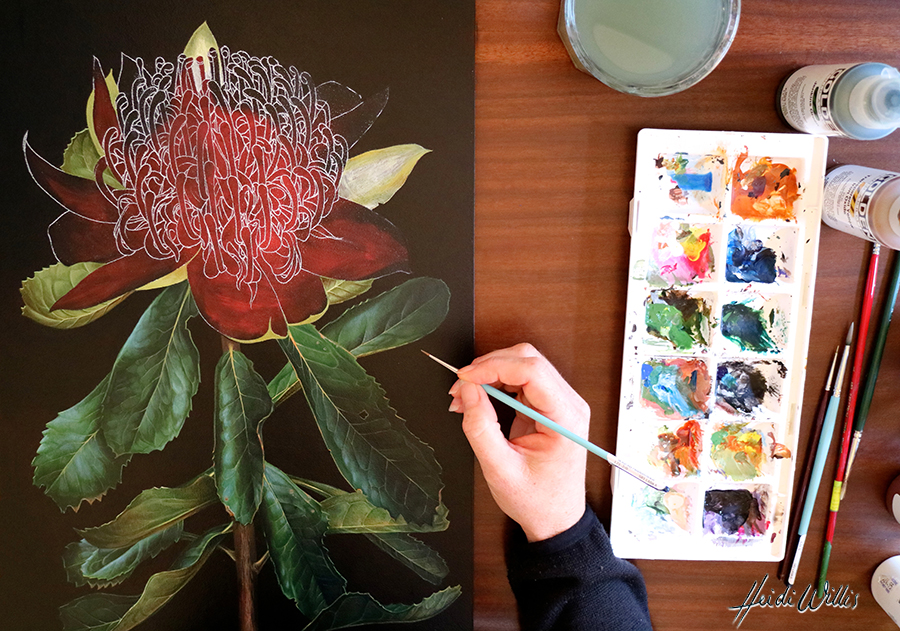 The leaves have been refined now, bringing subtlety, finesse and fine detail to this area of my painting, and a rich luxurious feel to the over all piece. I am loving acrylics. That said, dealing with the intricate flower head itself is no easy task, so moving on, I really have my work cut out for me. Of course, I want it to be juuuust right and absolutely stunning for my clients hotel… back to the studio I go!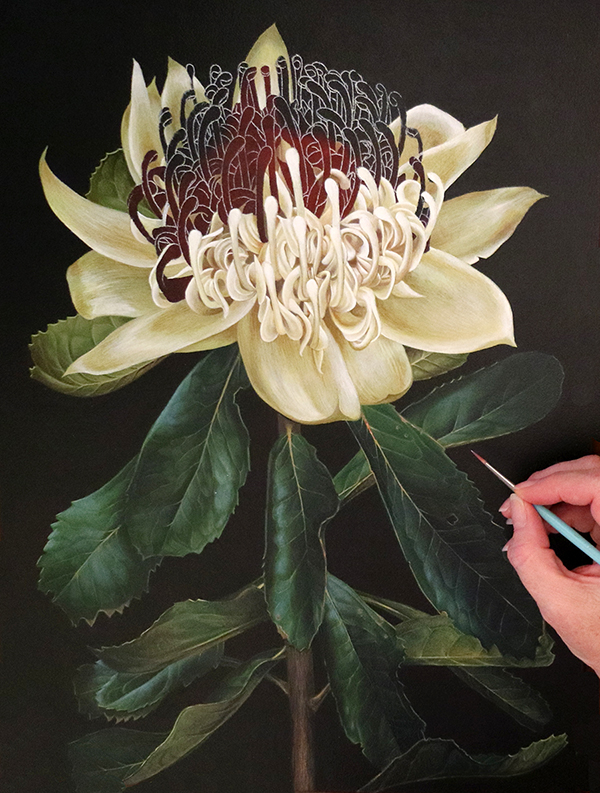 Well as expected, the waratah centre is quite the challenge, especially in white. Despite the slow going I feel in no hurry to work fast, only beautifully, and so it begins to grow and spread across my board towards completion. I have to say I am really happy with it and despite the fact I have not moved from my painting chair in days and days straight, my wrist is seizing up a little and my eyes are tired, thoughts of creating a series of spectacular waratah studies in all colours fill my mind… And with that, I am off in my own little world, paint brush in hand again.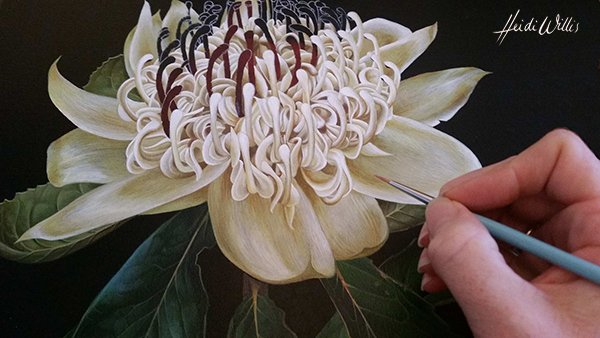 More of the same now… Long sittings of completing the intricate detailing on this flower centre sees the painting start to spread and fill in the last of the flower head. The end is in sight.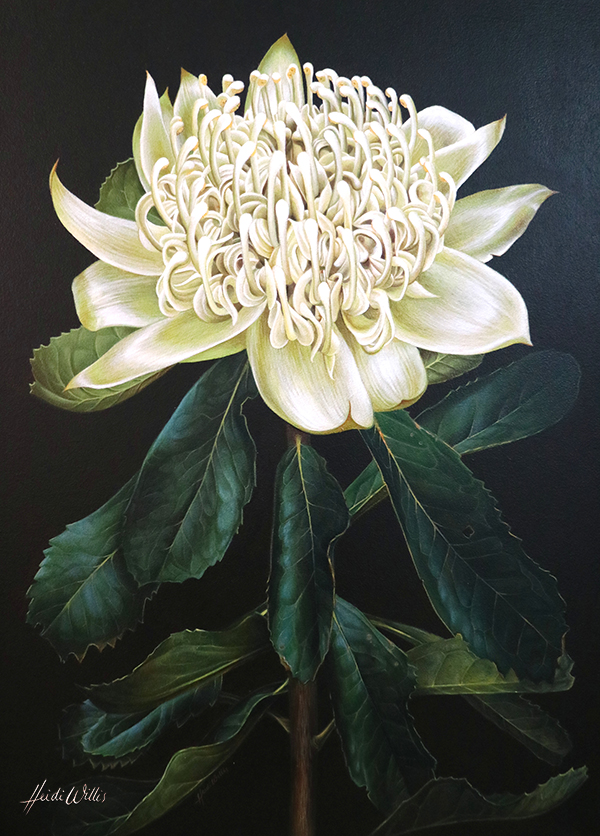 And now, the final piece… I cant wait to see what they create for and in the hotel with this painting, I think it will look spectacular! Happy client, happy me… thanks for following me on this white waratah journey 🙂
______________________________________________________________________________________________________________
Heres a little update to share the completed White Waratah painting in its stunning, bold and perfect black frame with you. I think its ideal for this dramatic artwork and I feel very fortunate to have stolen a last look at the end results whilst passing through town today. Farewell White Waratah, in the happiest of ways