Eucalyptus Illustration – Victorian Catchment Management Council Commission – A4 Watercolour
This week has certainly kept me very busy not just in the studio, but with an interesting array of tasks ranging from scanning and framing my recent Black Cockatoo and Tree Waratah Tree commission ready for its new owner to collect, to organizing materials for my up coming watercolour and botanical masterclass (now just a couple of weeks away), to working with a handful of fabulous clients on several new briefs, all set to pass through my studio over the next month or so.
High on the list of demands though, has been a lot of writing… In alignment with my last painting, I have been creating a feature article for a major magazine, due to hit the press in a couple of months time. Im extremely excited about this opportunity, and to take another step forwards in raising the profile of Botanical Art and artists even further in the mainstream arena. Its a tireless job but we've come so far and there will be more news on that event shortly. So much work goes into creating articles like these, but with my submission in at last and a smile, I quickly moved on to the next project… a large original painting for a high profile commercial client in town.
It's a very interesting brief this one, and a little different to my usual work that's for sure! 'Can you paint in acrylics…?' they asked me, and despite never having worked in acrylics before, they put the question to me as though they'd already assumed I could simply do anything. 'I can do anything' I replied, simply knowing that I can. A large piece full of whimsy, the design and layout has taken considerable time to create, but a wonderful exercise for me to work outside of my usual comfort zone.
Playing with the layout through the week, I also took time out to select a collection of new wondrous paints for the project, I ordered the canvas to be prepared for us, slipped quickly into denial over the cost of the materials and returned home to complete the concepts and layouts ready for submission.
Waiting for the canvas to arrive and the final roughs to be approved, the torrential rain the state, or states, have been lashed with drove in, pouring down the windows on every side of my house. The driveway turned into a river, the water spouting up and over all in its path as it flooded downhill. It was no surprise my courier called in sick, and though everyone questioned the truth in his story, none could deny his intelligence! Blue sky today and the delivery has been rebooked, ready to arrive imminently.
Its all the most perfect timing really. Rarely do I have a window free, but between the couple of days waiting, a beautiful new brief came across my table of a eucalyptus illustration for The Victorian Catchment Management Council. Time management is key to keeping up with the demands, and I was thrilled to be able to jump straight onto it for my client. The Victorian Catchment Management Council are celebrating 20 years of catchment management in Victoria and my painting will appear broadly across this events promotions… So its a wonderful event to play some small part in, and with a brief thats right up my alley too.
The subject chosen for this illustration was the Mugga Ironbark or Eucalyptus sideroxylon, with its delicate clusters of pink flowers ranging from soft peachy pinks to delicious rich pinks, hanging like cascades of fairies skirts from rich red stems. Sage blues and green leaves trimmed with the same rich reds make a stunning subject for any botanical artist, and so it was decided. The layout approved, I was away with my wet brushes to create this delicate illustration before I knew it.
Roughing in begins, developing the feel of the painting and subject, and finding my way with the colour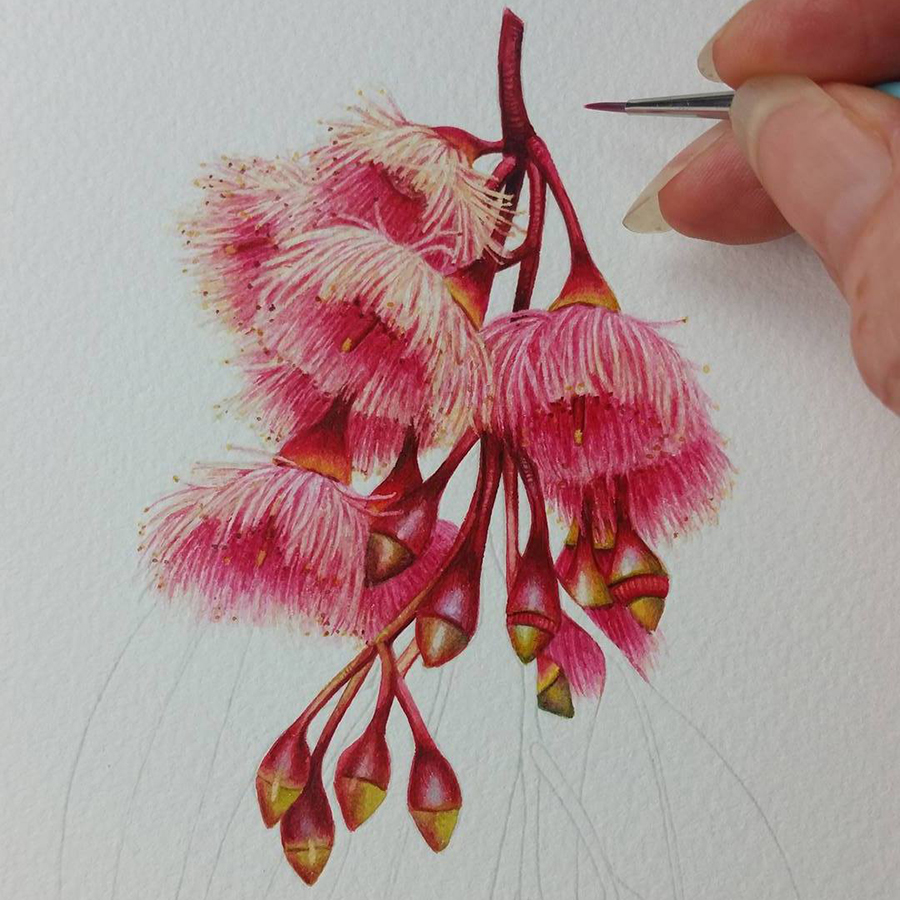 Work continues, developing the tone and richness of the colour, as well as the intricate detailing of the flowers. They are so sweet! The little gum blossom buds are always tricky, but with those in, it was time to move onto the leaves.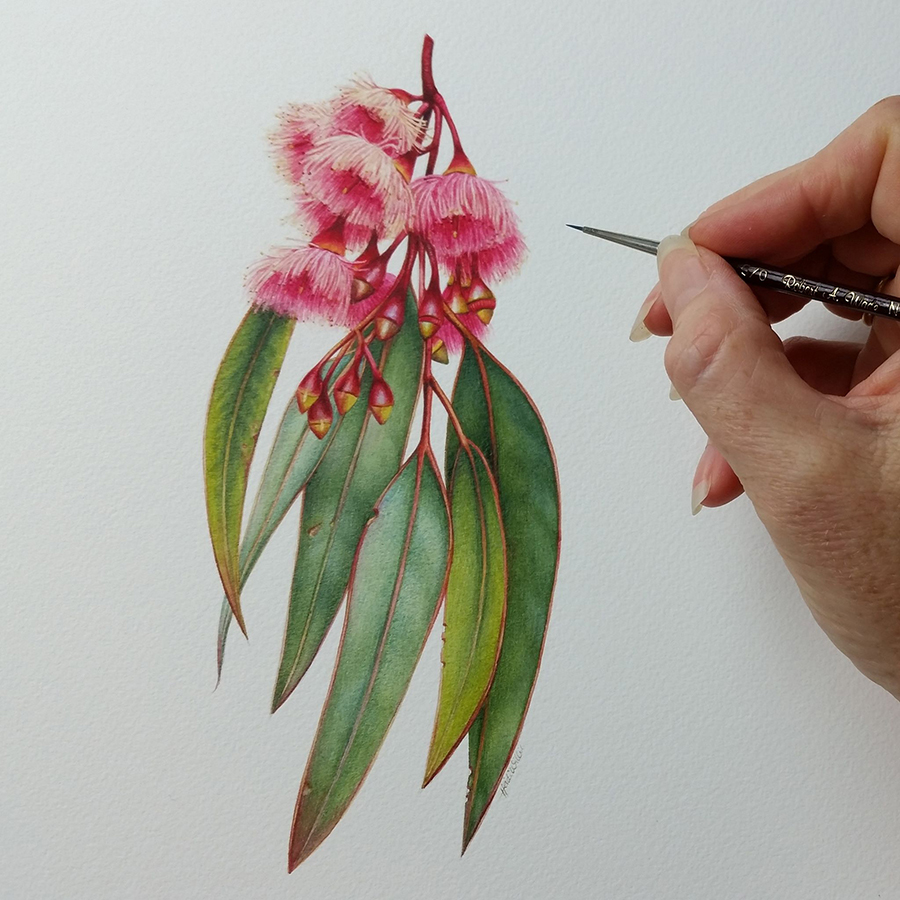 Soft blue greens and a beautiful fine red trim to each complete the picture
Eucalyptus blossom isn't the easiest subject to paint in watercolour, but I thoroughly enjoyed the challenge, and fell right into every little detail until it was complete. Best of all, this little painting continues my A4 series of glorious Australian native plants, kicked off initially with the Australian Geographic series as published in their magazine, and more recently on their website. Eucalyptus sideroxylon is number 18, making a perfect addition to this ongoing series of Australian botanical illustrations.
Another happy customer now has what they need, and I return to the studio this week to prepare for the next… and of course, for a week of teaching my next group of beautiful students at my 'Open Flowers' painting workshop. Much fun is to be had! Thanks everyone for following along with me
__________________________________________________________________________________________________________________
A little update on this projects come to us now as the final graphic design is released, showing the ultimate application for this illustration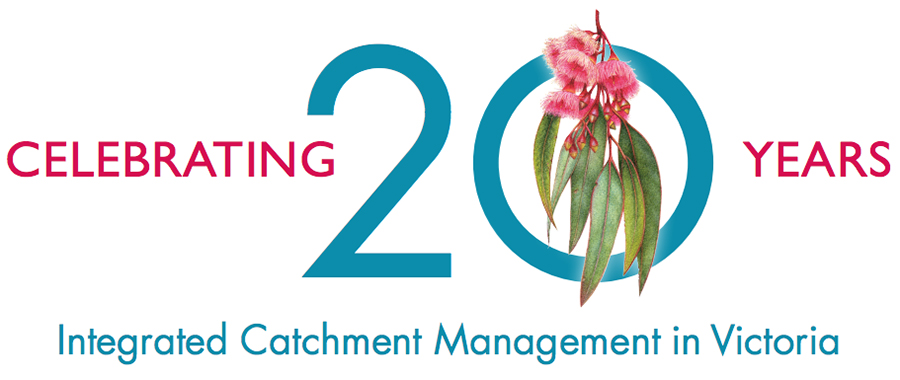 'I hope I have the chance to work with you again at some stage!'
Me too, and thank you… it was a pleasure
___________________________________________________________________________________________________________________
Mugga Ironbark or Eucalyptus sideroxylon original is now sold. Please contact me for any enquiries
___________________________________________________________________________________________________________________