White Waratah (Acrylics, 32x44cms) – SOLD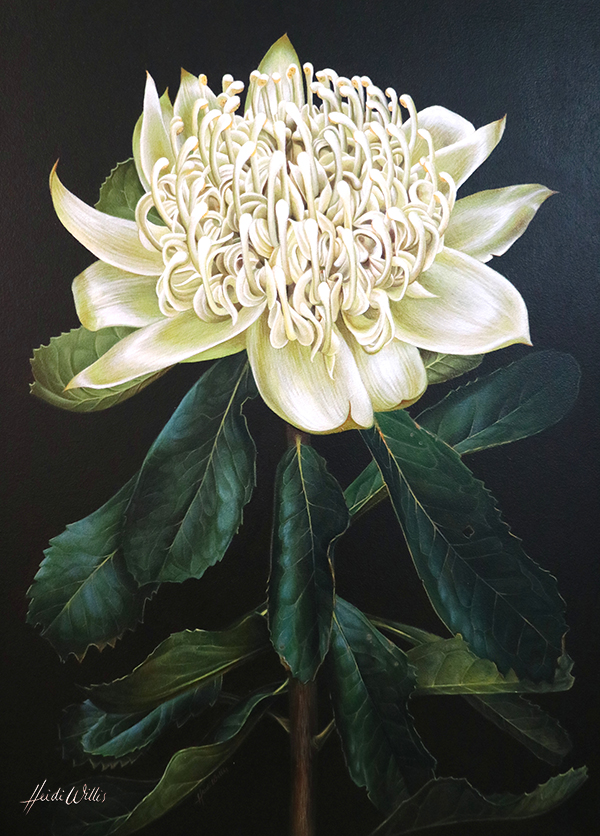 White Waratah is a powerful illustration of one of my favourite Australian native plants and flowers. Created for use of the corporate id and interior design for West Hotel, a beautiful boutique hotel in my favourite city, Sydney. This merging of my greatest loves, place, work, subject and home seems evident in the end results.
Rendered in acrylics, this intricate subject was spared no attention to detail. Whilst retaining my usual 'painterly' feel to my work, I completely fell into this painting and its process, loving every part of the waratah subjects bold structure, elegant form, its captivating contrasting darks and lights of leaf to flower, its rich, luxurious feel and the beautiful mix of masculine and feminine that comes to this piece. I can think of no better choice for this project, than the white waratah, its going to look simply spectacular!
It has been such a pleasure to work on this projects, and with my part of this wonderful vision complete, its time to hand the reigns over to the design team to take it to the next level. I really cant wait to see the final results!
A little follow up on the White Waratah after it left my hands
(White Waratah is sold)