Silvereye and Blueberry Ash – Watercolour – 225x150mm – SOLD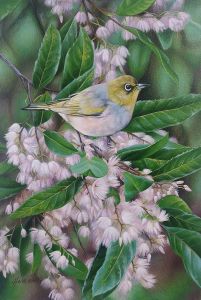 With a tiny amount of time remaining before I head off on my adventures into the wilds of Brazil, I wanted to work on this little painting of Silvereye and Blueberry Ash before wrapping up my work here in Oz, and it was a perfect choice for subject and size. Ive had a wonderful time exploring more birds in acrylics and have been consistently happy with the results Ive been achieving. I so love the lustre and feel of the finished pieces in acrylics and the Blueberry Ash was an ideal plant subject to explore in this medium.
I thoroughly enjoyed creating the delicate yet complex palette of the little silvereye too, and I especially love how the gentle warm rose colour in the birds belly compliments the gentle pinks of the blueberry ash flowers in this painting. Its a truly beautiful tree thats for sure! Someday I really must paint the same in berry season.
You can learn more about the progress of this painting in the blog section of my website here, or follow along on Facebook or Instagram for regular updates on this and all my works.
This is only the second painting Ive created this year that wasnt sold in advance, both going very soon after their commencement. This painting is sold, but if youd like to own an original for yourself, ask me about commissions and my payment plans to see what we can come up with together!