Red-Browned Finch and Tree Waratah – Acrylics – SOLD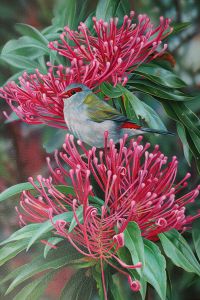 My newest painting is a small study of the Red-browned Finch and the glorious Tree Waratah. Measuring 225x150mm, I have created this piece with acrylics, continuing my exploration of a wonderful new medium. Whilst watercolour is always going to be my true love, the need to continue learning and growing as an artist is an important pursuit at any stage of an artists career.
I love the tangled, structured riddle of this flower subject and was excited to explore it further. The brilliant red splashes of the Red-browned Finch, a wonderful compliment to this painting.
Red-Browned Finch and Tree Waratah is SOLD, thank you. Please contact me if youd like to discuss an original like this for your own collection