Scarlet Honeyeater Illustration, 15x15cms in Watercolour, SOLD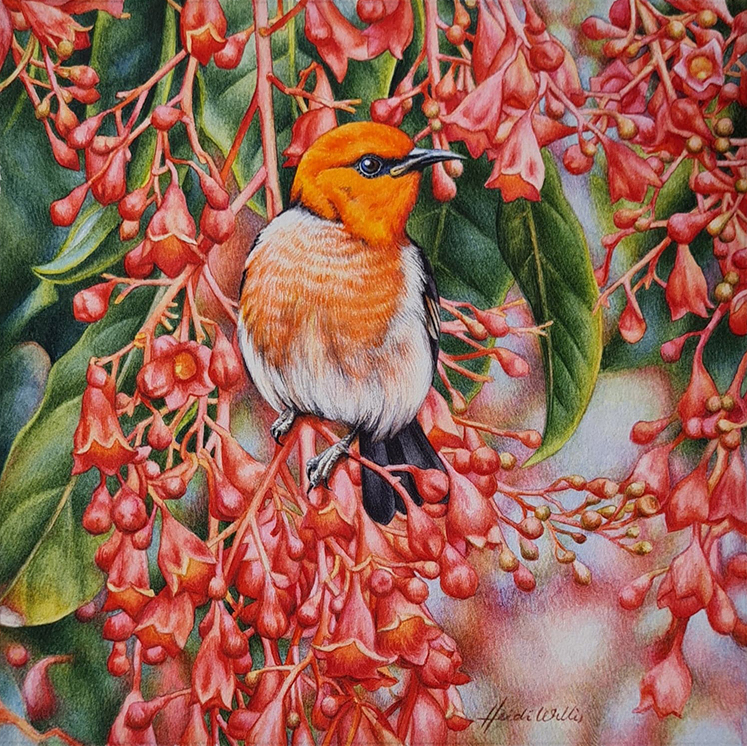 Scarlet Honeyeater is my focal subject for my current painting, an intricate study in reds capturing another magical moment in an Aussie garden… How we are so surrounded in such an abundance of beauty. Rendered in watercolour, it is a wonderful thing to return to my miniatures series after so long working on my commissions. 48 12×16 inch artworks has kept me steadily consumed for the last 2 years, a blessing over covid here, but now it is coming to a close I am relishing a return to my usual loves. I have many!
This little Scarlet Honeyeater is so magical to me, so tiny, sweet and colourful and such a perfect subject for me to capture. The reference image for the bird comes with massive thanks to the very talented photographer Pete Evans who so generously allows me to reference his images for my work. The brachychiton is one I photographed close to home on a perfect day, the gentle light really showing off its delicate side amongst its raging flaming red on mass. I love this tree but I often describe it as a delicious nightmare to paint with its crazy intricacies and complexities and wild yet subtle palette. Its right up my alley.
'Scarlet Honeyeater and Brachychiton' measures 15x15cms in size and is now SOLD. Let me know if you have any questions about this series