Blue Wren and Blossom – 1 of 2 Miniatures in Watercolour – 15x15cms – This painting is SOLD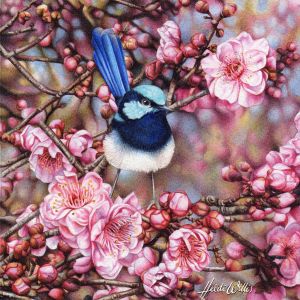 Blue Wrens and Blossom 1 and 2 are now available in print
The first in this sweet pair of 'Blue Wren and Blossom' miniature watercolour paintings measures 15x15cms and captures all the splendour and beauty of a fresh spring morning amongst the orchards. I found myself amongst this scenery last season, pink blossoms flooding the landscape, bursting from buds upon branches laden with brilliant yellow lichens, birds twittering amongst it all… i was in heaven of course, and no surprise at all, the compelling urge to capture it in my work found me fast.
I wanted to work in the micro of this glorious inspiration, because to me thats where the true beauty really lies… falling deep into the intricacy of the subject, the colour, the textures and the wonderful relationships between it all, finding the magic in the micro, these miniatures came to mind.
The small works are such gems, they are all about achieving the very best result possible. No consideration is given to time taken in these works and soooo, maaaany days were spent creating this work its quite obscene really, just striving to make it as seamless as possible. Now that its finished and has a new and very excited owner, it is set to adorn the walls of its new home where it will continue to tell the story of that beautiful spring morning amongst the orchards to all who see it. Its such a beautiful language, this painting business!
There is a small blog post on this work, and its pair if youre interested to see it coming together. The second blue wren miniature painting is set to join this one over the coming weeks and will later be put into high quality print for you all to enjoy too.
Blue Wren and Blossom – 1 of 2 is sold, thank you. This artwork is available in print, just follow the link to learn more