Bird Painting ~ St Vincents Amazons and Cannonball Tree – SOLD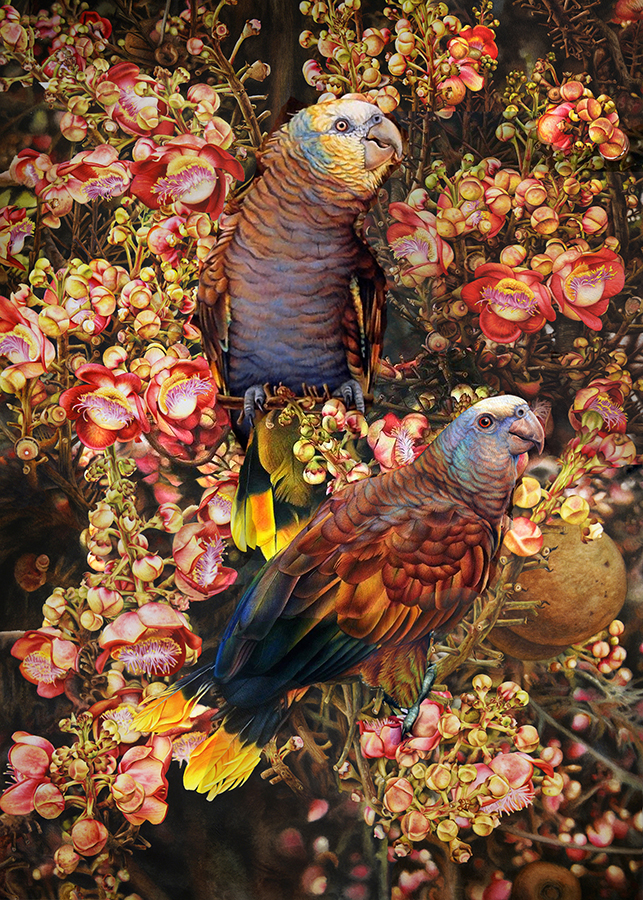 Work on my new bird painting, 'St Vincents Amazons and Cannonball Tree' or Couroupita guianensis has commenced. Measuring a hefty 75x105cm/30x41in size, this South/Central American inspired watercolour piece is one of the most challenging and complex pieces that I have undertaken to date. This unusual combination of subject appealed to me on many levels, but most especially, i was drawn to the unique colours, depth and textural richness of the palette. As a specialist in botanical art and a bird painting, this piece is everything you could hope for and will certainly be a one off showstopper when its completed.
The St Vincents Amazons are one of the rarest birds on earth with only a few hundred remaining. Illegal trafficking, loss of habitat and natural disasters have brought this extraordinarily beautiful species to the brink of extinction. The Cannonball Tree has always been a most fascinating, wondrous tree to me, and an ideal companion for the Amazons. The assistance of the German based conservation group ACTP made this painting possible, and they are doing wonderful things to preserve the St Vincents Parrots. As a natural history artist, botanical illustrator and bird painting, the coming together of this significant piece, capturing and recording one of our most precious species, was all i could hope for.
As a more recent update, this bird painting has just been selected as a finalist in the highly competitive and prestigious Waterhouse Natural Science Art Prize. It will be on exhibition in the South Australian Museum from Friday 10 June until Sunday 31 July 2016 and is in the running for a major prize awarded by this event. I hope that some of you can make it to the exhibition and see it for yourself!
If you'd like to follow the progress, please join me on my Facebook page to watch it unfold.
This painting is available for sale at this stage. Please contact me with any enquiry