Rose Robin and Brachychiton – Australian bird painting – Watercolour – 15x15cms – SOLD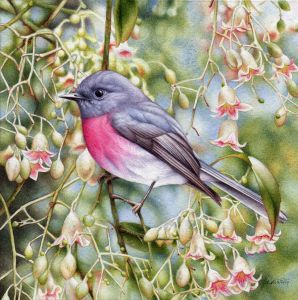 Next in my small Australian bird painting series is 'Rose Robin and Brachychiton', an absolutely magical little bird almost impossible to believe it could be real… but it is, and I am thrilled to include this in this collection. Measuring 15x15cms, Rose Robin and Brachychiton is rendered in watercolour, this gorgeous pink bird nestled delicately in amongst the spectacular brachychiton, two more of my favourite Aussie subjects captured for all to enjoy.
The rose robin reference came to me with thanks to Alison Nisbett, a beautiful bird photographer who always supports my work through hers. The brachychiton was a treasure I stumbles across on one of my road trips, its creamy lime coloured bell shaped flowers with their textural pink inners making an ideal marriage for the bird.
Above is a series of images from the start to conclusion of this painting, but you can see more on this in my blog post or my Youtube Channel covering the work coming to life. This painting is SOLD.'Rose Robin and Brachychiton' along with a number of other artworks in this small Australian bird miniatures collection are available in print. They are perfect for so many beautiful locations in your home, as a beautiful gift for someone special… or just because