'Female Red Capped Robin' – 12x12cms – Watercolour – SOLD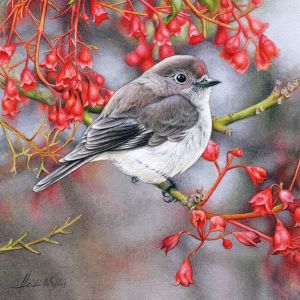 'Female Red Capped Robin' continues on with my highly popular miniatures series of sentimental garden favourites, small birds and exquisite small works. This delicate miniature bird painting measures 5x5in/13x13cm in size and is painted in watercolour.
The Red Capped Robin (Petroica goodenovii) is a small, brightly coloured Robin, mostly located in inland areas, occurring widely throughout dry woodlands and scrubby country over the southern two-thirds of Australia. The Red-capped Robin is the smallest red robin which can be distinguished from other red robins by the unique red cap in the male, and by the softer, muted red cap amongst more delicate, mousy colours in the female as Ive illustrated here.
In fact this miniature bird painting is one of my favourite paintings to date. This little lady has a very special serene energy, perched amongst such vibrant, yet equally delicate flowers of the spectacular Illawarra Flame Tree. Though a small piece, this combination of subjects certainly made for a challenging subject!
Falling into her gentle colours and textures was meditative, and that mood seems to have carried through to the story captured here. I love too, that gorgeous relationship of colour in nature, that harmony and language between bird and plant that I so often talk about. This balance is so perfectly illustrated in this painting, and what better medium to capture it in than watercolour. She is a little jewel, and this painting a treasure.
'Female Red Capped Robin' is SOLD