Lear's Macaw and Tabebuia – 66x90cms – Watercolour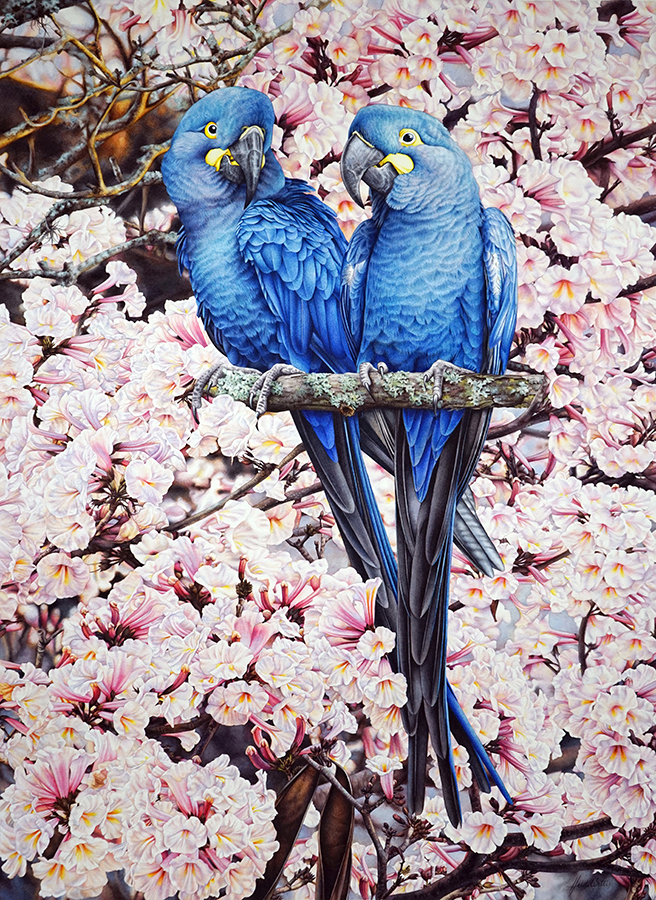 Lear's Macaw and Tabebuia is the 4th painting in my current and ongoing major work series in watercolour. Each in this collection is an in depth study of stunning bird and plant subjects observed, gathered, researched and referenced during my travels around the world and take many months and a whole lot of love and dedication to complete.

My recent focus has been the outrageous beauty of Brazil and the magnificent big blue macaws. The first macaw piece was the Hyacinth Macaw and Lecythis, and now its pair, the Lear's Macaw and Tabebuia is complete and joins this series of career pieces. You can see more on this painting coming together on my YouTube Channel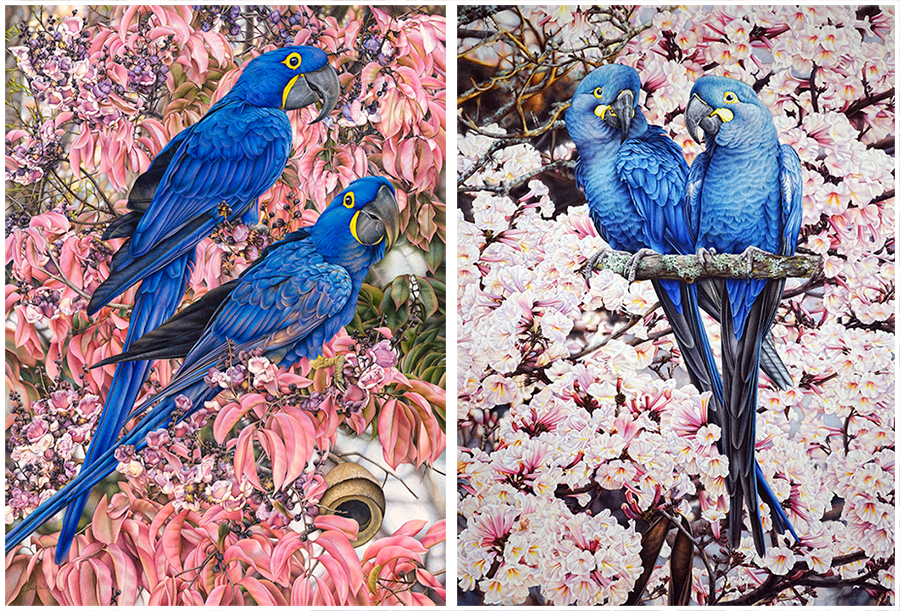 In time and with a little luck, Ill also add the third to the series with a Spix Macaw to make the set. If anyone has any reference I can use, or information on where I can access this rare parrot, of course Id love to hear from you! It will be a beautiful set, no doubt about that.
I was utterly captivated by the Tabebuia trees in flower on my travels through Brazil, and I was fortunate to be there right at the flowering time. These trees flower in such abundance, their unimaginably beautiful blooms in cascades of colour, pink, white and brilliant yellow that invigorates your senses, sense of wonder and creativity to your core, making these one of the worlds most celebrated flowering trees with very good reason. For me they are my heaven and were an absolutely essential subject to include in this collection. I recall our absolute delight, traipsing all over the country to see every single tabebuia possible, leaping in and out of the car overland on our search, gasping at the beauty of it all, gobsmacked as we stood beneath trees raining flowers down on us, golden light sweeping through the trees like magic. These are some of my happiest moments of my life, all ingrained into this painting.
The parrot was certainly a challenge to locate as they are now so rare and endangered that finding the reference required the dedication, experience and connections of my entire network, and traveling many miles to make this painting possible. I have such love for my friends in Brazil, I hold the place and my people there so dear and appreciate all the efforts you made to making this piece a reality with me. Certainly this painting has many great slices of all of our lives, adventures and joy tangled up in it, and so it brings me so many smiles to recall its efforts.
And so I offer this painting to you to purchase as its time with me is done and its story must go on from here, so please let me know if you have any enquiry or questions on it at all, or if youd like to discuss something similar as a commission. These pieces need very special homes 🙂 Thanks
Prints of this painting are also available, just follow the link for more information on this